The hands-on research skills I gained meant I could step into my career as a social researcher with plenty of experience behind me already
Georgina instantly felt at home in Sheffield when she visited for an Open Day. During her time at University, Georgina took up a variety of opportunities and gained valuable skills that have seen her launch a promising career in social research.
What was the best or most useful thing about the course you studied in the Department of Sociological Studies?
The most useful thing about my BA Sociology degree was undoubtedly the hands-on research skills that are developed right the way through the course, including interviewing techniques, survey design, statistical analysis and presentations. It meant I could step into my career as a social researcher with plenty of experience behind me already.
The best thing, however, was being taught by academics at the top of their field who are incredibly passionate, and being able to choose unique specialities as modules. Particular highlights from my third year were Sociology of Evil, Sociology of Surveillance and Men and Masculinity – but there are so many to choose from! 
Why did you decide to study at the University of Sheffield?
I had my heart set on Sociology, and the University of Sheffield was one of the most highly ranked for the subject. When I visited for the Open Day, I instantly felt right at home and could easily picture myself there. Add onto that the friendly, green city itself and how welcoming and popular the Students' Union is, it was a no brainer. 
What is your fondest memory from your time in Sheffield?
I have so many wonderful memories from Sheffield, from nights out, trips, events, varsity, and just enjoying that whole package of being a student. The Sociology Society (SocSoc) balls were always a highlight of the year as well. It was a great chance to dress up and celebrate the end of year with course mates.
What is Sheffield like to live in? What do you miss most about the city?
It's such a lovely place to live, the perfect balance of city (great food and great nightlife) and greenery (where else could you hop on a bus and be in the peaks in half an hour?). I wasn't very (at all!) outdoorsy when I moved to Sheffield, but it makes such a difference even being able to have a walk or a boozy picnic in the Botanical Gardens or Weston Park. Since the Coronavirus outbreak, we've all appreciated the outdoors more than ever , so I'd say the green space is what I miss most – that and Notty House pies (if you know, you know!).
What has your career path been since graduation?
I knew I wanted to work in social research ever since I did an internship between my second and third years at the Sheffield Methods Institute, and it confirmed how much I enjoyed research. Straight after graduating, I moved to Leeds to do an MA in Social Research, before starting work at a social research agency in York, where I've worked my way up to the position of Senior Research Executive. 
Tell us a little about your current role? Career highlights so far?
I undertake research projects on behalf of clients, for me this usually is government bodies, charities or local NHS bodies. As we're a fairly small research agency, I'm involved with all stages of the research process, from bidding for the work, planning the research, undertaking fieldwork and writing it up and presenting back to the client. Some days I'll be moderating focus groups, other days have my head in stats, and others pitching to clients – I love the variation. 
I'm also involved with the Social Research Association, which is a professional body for social researchers, and a career highlight was recently hosting and giving a talk at an online SRA event about some work I did on health inequality; health research is a passion of mine, so this was extra special. 
What's the biggest learning curve you've experienced since graduating?
The reality of a full-time job and a commute can be pretty tiring and definitely an adjustment! I live in Leeds but work in York, so my first couple of years of work were full of very early mornings sat on the motorway. That all changed with Covid-19 of course and I've been home-working for many months now – I never thought I'd miss that commute, but actually I undervalued it as time to switch off from the day. I'm looking forward to a mix of both in the future.  
Where do you see yourself in the future?
Continuing to push myself as a social researcher and investigate new things. I can't predict exactly what I'll be doing or where, but as long as I'm researching, keeping curious and trying to make a small difference in the world, I'll be happy.
What piece of advice would you offer new students to the Department of Sociological Studies at Sheffield?
Make the most of all the opportunities at the University, the Students' Union and in the Department – there are so many that I wasn't even aware of. I didn't do many extra-curricular activities in my first year and if I had my time again, I'd jump in to more things at an early stage. That said, I ended up doing an internship at Sheffield Methods Institute, worked at the Information Commons as a library assistant, completed the SPRINT women's development programme and the Sheffield Graduate Award, taught sex education to secondary schools with Sexpression, and was a volunteer calltaker for Sheffield Nightline (the student run listening service,  which was a huge part of my time at Sheffield and such a valuable service to students. So there's plenty of time to get involved!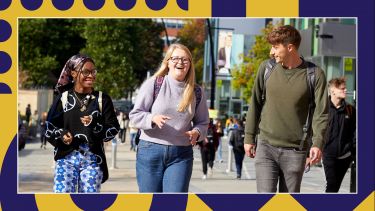 Results and Clearing 2022
You can apply for available courses starting this September from 8am on Thursday 18 August.