As an international student, I wanted an opportunistic, yet manageable city where I was able to focus without the stresses of city life

Hana Okasha
Graduate
BA Digital Media and Society
2020
BA Digital Media and Society graduate Hana Okasha tells us why Sheffield stood out for her, both in terms of the brand-new course that was on offer and the student life in the city.
Why did you choose to study Digital Media and Society BA?
This course is an emerging interest on an international level as new digital media technologies become a part of our everyday lives. Media production and consumptions are surging, and so the role it plays in our social environments have become crucial to explore and examine. I chose this course because I wanted an overview on how to create engaging media. I was stuck between wanting to study media communications and journalism but felt as though those courses are outdated. While reading into this course, I felt as though the knowledge I would obtain would be interesting and vibrant to academic disciplines. It being a new and unique course, that seemed to incorporate all aspects of information communication excited me and led me to choosing the course of which I do not regret.
What attracted you to the University of Sheffield?
As an international student, I was really looking for a student-friendly, interactive, yet modernised city life that wasn't too busy such as London would be. I wanted an opportunistic, yet a manageable city where I was able to focus without the stresses that the city life has to offer such as daily expenses, and travel times. Sheffield offered just that. The university open days I have attended made me imagine my life perfectly as students were buzzing around campus with smiles on their faces as if excited to go to their lectures or social groups. The Students' Union was very pleasant, and as a social person, I loved its atmosphere and was able to understand why it was nominated the number 1 student union. More so, it was one of the few universities that offered the unique course of Digital Media and Society.
What do you enjoy most about your course?
I have found the course to offer much more knowledge than I expected. I have been able to examine sociological theories, look into how information is dispersed and analyse audience reactions with digital research methods, which are all skills that I've never been introduced to or heard of before. This course surprises me with every lecture in that it is so relevant and relatable. I was able to apply my learning to everyday scenarios and even friendly discussions. By learning how to code for data visualisations, making videos using Adobe, and how to create websites, as someone who has a passion for creating media content, my creativity scope has expanded beyond my expectations.
What do you enjoy doing outside of your studies?
As a health and fitness enthusiast, I enjoy utilising my skills from the course and applying them to my Instagram blog called @Freshersfood, where I post easy, affordable meal preps and workouts videos to inspire students into living a healthier lifestyle. After seeing it excel with over 2.2K followers in 6 months, I am enjoying researching into ways that I can create new and exciting content. Offline, I enjoy trekking in the beautiful Peak District in Sheffield when the weather conditions are good, usually with my friends. Other times I simply go to the gym to satisfy my adrenaline needs where I usually find my friends given that the city is small. The Students' Union has many planned events and nights out to join as well. The societies I joined always have social gatherings planned during the weekdays and weekends that I like attending to make new friends.
What extra-curricular opportunities have you undertaken during your studies and what did you enjoy most about the experience?
I have joined Enactus, a very well known, international, student led enterprise organisation that collaborates with existing businesses to resolve social issues or even plan out events. I have built on my team working skills and met brilliant students in the process. Societies such as the IA Coding Society, or the Film Making Society that I have joined have strengthened my interests and I've began new hobbies that I get to enjoy with new friends. Being a part of the 2018 Datafest was very helpful in that I was able to engage with professional and famous figures from Sky News, BBC, and even people from police stations that work with data. I learnt a lot and have managed to keep in contact with them for career choice advice and internship opportunities. In addition, off campus I have taken on a number of part time jobs as a Market Research Interviewer, an e-commerce brand ambassador, and now as a science presenter for children. These experiences were amazing in that I got to do practical work with my efforts contributing to real life situations. From all these experiences, I have grown as a person and shaped my path for future goals.
What are your plans for the future?
Creating media content has always been a dream of mine, I have always been interested in information communication. This course has shifted my focus and is inspiring me into data analysis because I am beginning to see how that is the core of all influential media productions. I hope to do a masters in data analytics and then hopefully work on the sets of Bloomberg Media, Sky News, or any news outlets where I can be a data analyst broadcaster, discussing contemporary issues with calculated arguments using data to prove my points.
What advice would you give to students thinking about studying Digital Media and Society at Sheffield?
I'd definitely tell them that if they are considering a new avenue into media and communications, journalism, or sociology then this course is it! The course is so flexible in that it incorporates all these topics, and more with fun computer science work like coding to create website designs and even business online marketing techniques. I would advise they research into how new digital media is affecting our everyday lives and why it is sociological important as that seems to be the overarching theme of the course from which they can get a better understanding of. Other than the course, I would advise they look into what exciting student events are held around the University that they can participate in, and what societies they might want to join.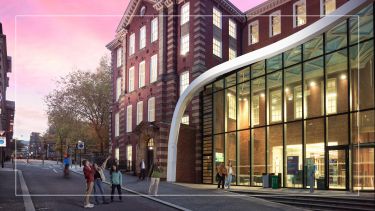 Visit us
Discover what sets Sheffield apart at our undergraduate open days on the Saturday 21 October or Saturday 18 November.