In my work, I have to be confident, personable and approachable - these are skills that I learned during my time at the University of Sheffield

Kieran Telford
Graduate
BA English Language and Sociology
2018
Kieran's Sheffield experience was unforgettable, not only because he chose a course that combined two of his favourite subjects, but because he made the most of the opportunities on offer with the Department's Sociology Society. Following graduation, Kieran has launched a career in Sheffield and says he has no plans to leave the Steel City any time soon!
Why did you choose to study at The University of Sheffield?
I chose to study at the University of Sheffield because the course I chose combined two subjects I thoroughly enjoyed, and it was one of very few universities in the UK that offered a course similar to this.
What did you enjoy most about your course, and why?
I consider myself very lucky for being able to study a course which crossed over two departments. It allowed me to meet more people and create additional support networks through new friends and staff relationships. I really enjoyed the variety and breadth that the course offered, and it helped me improve important life skills such as managing my time and keeping organised.  
What do you think about Sheffield as a city? What is your favourite thing to do here?
Sheffield is truly one of a kind! It has everything that bigger cities can offer, whilst maintaining a close-knit feel. The nightlife is incredible, but my favourite part about Sheffield is having the Peak District right on your doorstep. You won't have to walk for long before you see some amazing views. It's almost been three years since I graduated, and I have no plans to leave Sheffield any time soon!
Were you involved in any clubs or societies? If so, how did they add to your overall university experience and what skills have you gained?  
From my very first week at the University of Sheffield, I was introduced to the Sociology Society and the Sociology's intramural football team. Both societies had a huge impact on my university experience and my character, and eventually led me to make friends for life. The Sociology Society worked so hard at making sure it was inclusive for everyone by organising regular social events, sports events and even an annual European city break!
In my second year, I felt confident enough to put myself forward as Men's Sports Officer to continue on from the previous officers who helped make sure I had the best first year experience. This helped me become more responsible and well-organised whilst growing my confidence further. This eventually led me to put myself forward for the Vice President role of the society in my final year. Not only are these roles now impressive accolades on my CV, but they helped me to make strong bonds and to have an unforgettable university experience.
Your best memory from your time at Sheffield? 
My best memory from my time at Sheffield was the annual End of Year Ball, organised by the Sociology Society for the whole Department. It was an incredible way to round off three amazing years at the University of Sheffield, with friends and staff that helped make the experience what it was for me.  
What has your career path been since graduation? Where do you see yourself in the future?
After graduating in 2018, I was determined to stay in Sheffield so I continued working as a supervisor in a local bar. Once I felt settled, I applied for a Client Account Manager role at FindAUniversity Ltd. In this role, I focus on maintaining and developing existing client relationships with universities around the UK and putting together digital campaigns to help promote their postgraduate opportunities. I am part of a team that is the first point of contact for our customers, which means I have to be confident, personable and approachable - these are skills that I learned during my time at the University of Sheffield.
What piece of advice would you offer new students to the Department of Sociological Studies at Sheffield?
My advice for new students starting at the Department of Sociological Studies at Sheffield is to throw yourself in to as much as possible. Although it can feel overwhelming at the start, going along to their social events and signing up to sporting teams is a great way to make friends and have an unforgettable university experience.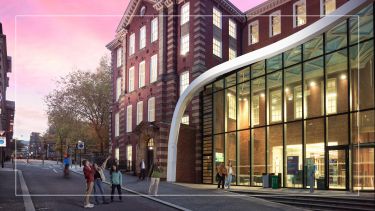 Visit us
Discover what sets Sheffield apart at our undergraduate open days on the Saturday 21 October or Saturday 18 November.