Jesrine Clarke-Darrington
Jesrine is a Learning Technologist in the Health Sciences School.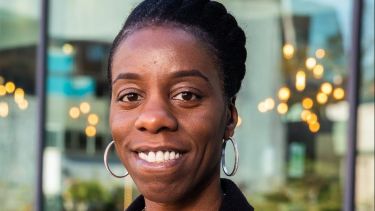 Off
Jesrine was nominated for the Times Higher Education (THE) Outstanding Technician of the Year Award 2020.
As the sole Learning Technologist across the Health Sciences School, Jesrine provides pedagogic advice, guidance and support on the use and development of sessions in a range of institutionally supported learning technologies including Blackboard Learn, Turnitin, PebblePad, blogs, wikis, lecture capture, media creation and online learning materials. 
Jesrine has developed, advises and leads on the School's Technology Enhanced Learning (TEL) strategy. She has also presented at the University's TELFEST conference and the annual Learning and Teaching Conference. Through her leadership, enthusiasm and commitment, she has placed learning technologies as a mainstream activity within the school.
Over the past year, Jesrine has been instrumental in setting up the Pan-Midlands, Yorkshire and East Practice Assessment Document (MYEPAD). MYEPAD has been developed to ensure that student nurses are prepared to meet the Future Nurse standards of proficiency (NMC 2018) at the point of registration. 
Jesrine has been heavily involved in the regional MYEPAD group, attending regular meetings, collaborating with other universities and developing sections of the MYEPAD.  Jesrine was also asked to be part of a smaller work stream developing the how-to guides and support materials for the MYEPAD. 
Jesrine also collaborated with colleagues at Sheffield Hallam University, and ran the training for partners on behalf of both Universities on the MYEPAD. This involved all Trusts and other placement organisations across the South Yorkshire Bassetlaw and Chesterfield region.
In March 2020, when the Covid-19 lockdown began, the School was asked by Health Education England to develop some online teaching sessions to increase the capability and capacity to deliver critical training in key priority areas for healthcare workers to access.  Jesrine was instrumental in developing and making these sessions available online at very short notice. During April 2020, the School delivered 28 sessions to 600 participants. A total of 275 participants provided feedback and nearly 90% of participants found content highly relevant or relevant to their professional practice.
Jesrine has also developed a MOOC with a Senior Lecturer, Dr Parveen Ali, and the online learning team on supporting victims of domestic violence. This MOOC was rated one of the best online courses in 2019.
A world-class university – a unique student experience
Sheffield is a research university with a global reputation for excellence. We're a member of the Russell Group: one of the 24 leading UK universities for research and teaching.