Lynne Baxter is a Senior Core Facility Technician in the Department of Neuroscience. She is involved in the day-to-day management of the neuropathology laboratory, providing expert advice and guidance to staff and students requiring histological support for their research projects.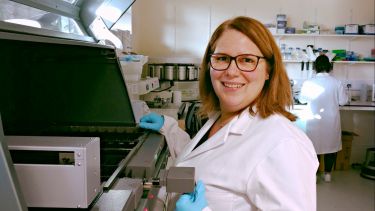 Off
Lynne was nominated for the Times Higher Education (THE) Outstanding Technician of the Year Award 2020. 
Lynne was nominated for her wider roles, including as Course Lead for the MSc in Translational Neuropathology, for which she designs and leads practical laboratory-based teaching, as well as delivering lectures and tutorials in her specialised field. Thanks to Lynne's contribution, the course continues to grow and is extremely popular due to its practical nature. 
In order to develop her teaching skills, Lynne has become a Senior Fellow of the Higher Education Academy (HEA), the first member of technical staff at the University to achieve this status as far as we're aware. 
In 2014, Lynne established short courses in Immunohistochemistry, with a colleague from Psychology, which now include accreditation from the Institute of Biomedical Science. These courses are extremely popular and attract staff and students from the NHS, industry and academia. There are two deliveries of each course every year for to up to 60 delegates over the year. This has resulted in a new income stream for the department, which helps support and maintain economic viability, replacement of equipment within the Histology Lab and pays for any CPD required by the technical team in the department.
In 2018, Lynne took over as the new lead of the Sheffield Brain Bank (SBTB), responsible for the day-to-day management of the collection and its custodianship. Lynne led a review of the SBTB to ensure that the collection of tissue was compliant with the Human Tissue Act (HTA). This collection of tissue is a key resource for a large volume of research within the department and failure to meet the requirements of the HTA would not only result in significant impact for the department research programmes but also potential reputational damage to the University.
Beyond her day-to-day role, Lynne has been involved in promoting technical careers with young people through the Gatsby Foundation's Technicians Making it Happen initiative. In 2018, she represented technicians at the Big Bang Show in Birmingham. She is also involved in the Technicians Network (TechNet), which focuses on collaborating and sharing expertise amongst technicians, managers and support staff at the University.
A world-class university – a unique student experience
Sheffield is a research university with a global reputation for excellence. We're a member of the Russell Group: one of the 24 leading UK universities for research and teaching.