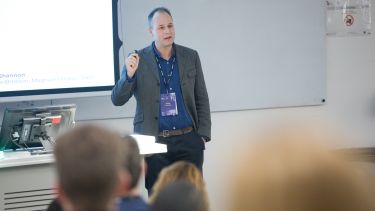 All accepted papers must be registered with either a regular or student registration prior to the submission of the camera-ready version. The registration includes attendance in all technical sessions, and access to proceedings.
Please note:
Student Registration – covers *only* one paper.
Regular Registration –  covers a maximum of two papers with a common co-author.
Note: The deadline for an early bird registration is: 29 July 2022.
---
Registration fees and how to register
You can register for UKCI 2022 through the University of Sheffield's Online Store.
Regular registration fee: £275 (£325 if registering after 29 July 2022)
Student registration fee: £225 (£275 if registering after 29 July 2022)
---
We are planning for an in-person conference. However, we may be able to accommodate online participation under exceptional circumstances for those who are not able to travel (in particular from overseas). We will publish relevant guidance on the website in due course, and we'll make an assessment closer to the time (when we'll have a clearer view of any COVID-related impacts).
Should you have any concerns or reservations about travelling but still wish to participate, please email the conference organisers at ukci2022@sheffield.ac.uk.
Automatic Control and Systems Engineering
The Department of Automatic Control and Systems Engineering (ACSE) at the University of Sheffield is leading on the organisation of UKCI 2022.