President and Vice-Chancellor's biography
Professor Koen Lamberts is President and Vice-Chancellor of the University of Sheffield. He previously held the same position at the University of York.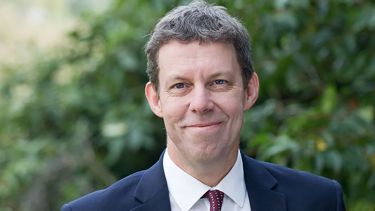 Professor Lamberts is Chair of UKCISA's Board of Trustee and Deputy Chair and Board Member of the Russell Group.
He is also a member of: 
N8 Research Partnership
Universities and Colleges Employers Association
White Rose University Consortium
Worldwide Universities Network
Universities UK
Yorkshire Universities
National Centre for Universities and Business
APP University Group
Experimental Psychology Society
Sheffield City Region Local Enterprise Partnership Board.
Professor Lamberts was born in Hasselt, Belgium. He holds undergraduate degrees in Philosophy (1985) and Psychology (1987) and a PhD in Experimental Psychology (1992) from the University of Leuven.
Following a research appointment at the University of Chicago, he became a lecturer at the University of Birmingham in 1992.
He was Professor of Cognitive Science at the University of Warwick from 2000 to 2013.
At Warwick, he served as Faculty Chair for Science, Pro-Vice-Chancellor for Research (Science and Medicine) and Deputy Vice-Chancellor and Provost.
Professor Lamberts has a track record of experimental research into cognitive processes in perception, memory and decision making, and of mathematical and computational modelling of these processes.
He has collaborated with commercial and industrial partners in applied research that has focussed on consumer behaviour and product design.
He was a recipient of the British Psychological Society's Cognitive Award (1996) and of the Experimental Psychology Society Prize (1997).
A world top-100 university
We're a world top-100 university renowned for the excellence, impact and distinctiveness of our research-led learning and teaching.