Information on Sheffield public transport services and tickets.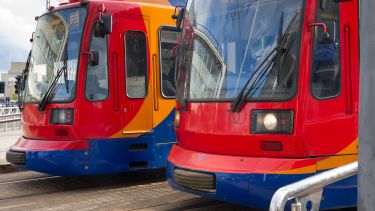 On
Sheffield has an extensive public transport network covering the city centre, suburbs and beyond into South Yorkshire, Derbyshire and the Peak District. 
Information on the bus, tram, tram train and train network can be found on the Travel South Yorkshire website. This includes journey planning, real time departures, timetables, maps and tickets. This includes:
---
There are two main bus operators in South Yorkshire – Stagecoach and First.
Sheffield has two bus interchanges (bus stations) located on Arundel Gate and Pond Street. Buses from these areas to the University take between 10 and 20 minutes.
---
Supertram, the tram network in Sheffield and Rotherham is operated by Stagecoach. There is a tram stop at the University of Sheffield on Upper Hanover Street, only a short walk from most buildings on the main campus. 
From here trams run to Malin Bridge and Middlewood in one direction and through the city centre towards Meadowhall and Halfway in the other. Changing at Cathedral, you can hop on a tram train to Parkgate via Rotherham.
Direct trams from Sheffield station to the University of Sheffield run every 12 minutes. From the station get on a Blue route service towards Malin Bridge and arrive at the University in under 10 minutes. 
---
Sheffield's local train network is operated by Northern. It extends into the city's suburbs across the rest of South Yorkshire and beyond. Other destinations include Manchester, Leeds and Lincoln.
For train travel further afield, please see our section on national public transport.
---
Students living in South Yorkshire can apply for discounted tickets and rail users aged between 16 and 25 can get a third off train tickets with a Young Person's Railcard.
Discounts and offers are often available through TOTUM, so keep an eye out for those too.
---
Information about local public transport tickets can be found on the Travel South Yorkshire website.
 
For advice on flexible ticketing options which cover irregular travel patterns, such as part-time working, please contact travelplan@sheffield.ac.uk.
Staff can obtain a 5% discount on selected Stagecoach bus and tram tickets in Sheffield. Just download the Stagecoach app and register with your work email address. If you already use the app but are registered with a different address you can update your details in the settings.
Members of staff are also eligible to apply for a TOTUM card (previously NUS Extra), giving access to discounts on a range of products and services including transport and travel.
---
Taxis that are operated under licence from Sheffield City Council are known as Hackney carriages or black cabs. The Council's taxi ranks are spread across the city centre. You can catch a cab from these points and they can also be hailed if an available one is passing.
If you need to hire a private car, City Taxis are one of the main operators. These need to be booked from an arranged pick-up point.
Do not get into a taxi unless it's a Hackney carriage operated under licence from Sheffield City Council or one you have pre booked in advance from a known company such as City Taxis. 
A taxi from Sheffield station to the campus costs around £5 and will take approximately 7 minutes. Journeys from Sheffield station to student accommodation at Endcliffe and Ranmoor take 15 minutes and cost around £10. During peak hours journeys may take longer and cost more. 
We have our own taxi rank located at Endcliffe Crescent. This is operated by City Taxis and is open between 6pm and 6am. 
If you've run out of money on a night out you can still get home safely by making use of our Safe Taxi Scheme (student login required).
Coronavirus - campus access
Check our coronavirus information pages for the latest on access to University buildings.