Britain's security: Maritime strategy - what next? (The 2018 Basil Hicks Lecture)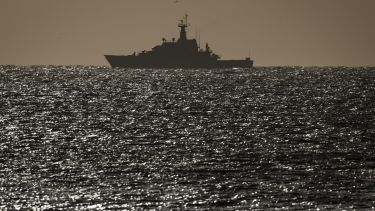 ---
Description
We were delighted to welcome Vice Admiral Sir Charles Montgomery, KBE to the University to deliver the Basil Hicks Lecture. Sir Charles, an alumnus and honorary graduate of the University, has had a distinguished military career. He is former Director General of Border Force. 
The lecture opened by remembering those who lost their lives in the war and outlining the background to Basil Hicks and the Basil Hicks lecture.
Sir Charles' keynote lecture focused on Britain's maritime security. He discussed how the sea is crucial to global trade - a huge natural resource that offers global prosperity.
However, access to the sea is often taken for granted and can be abused through threats such as, terrorism, human and drug trafficking. Sir Charles looked into Britain's maritime strategy and how the UK needs to respond to the threats posed to that security.
Sir Charles concluded that maritime security needs to be one of the nation's highest strategic priorities - to do this we need to better understand what happens in our own waters, invest, share knowledge with international partners and act early.
Audience feedback
"Exceeded my expectations. The speaker was very engaging. The content was interesting and thought-provoking."
"It was an incredibly enjoyable event!"
"Thought-provoking, very well moderated, interesting to hear about something I never usually think about."
Basil Hicks and the Basil Hicks Lectures
Basil Perrin Hicks, the man in whose memory the Basil Hicks Lectures are given, was the younger son of the University of Sheffield's founding Vice-Chancellor, Professor William Mitchinson Hicks FRS, and his wife Ellen Perrin.
He was educated at Rugby and studied at Hanover and Bonn before entering Trinity College, Cambridge: after graduating in 1914 he studied further in Paris before returning to England on the outbreak of war, joined the Inns of Court Officer Training Corps and received his Commission in September 1914.
He went to the Front on 7th August 1915 as a Lieutenant in the 8th Battalion, Royal Berkshire Regiment, and was shot and killed whilst leading his men against the German trenches on the morning of 15th September, the first day of the Battle of Loos.
He was one of 380,000 men to fall in the three months of that battle, which moved the German lines back just 1,200 yards – albeit a considerable achievement in its context.
Basil Hicks is commemorated in the Great West Window of St Peter's Church, Bushey Heath, the Outer London suburb which was home to his mother's family, and by the Lecture series endowed by his parents.
Professor and Mrs Hicks originally envisaged that each Lecture should "deal with some aspect of the Great War, either its origins, its conduct or its social and international consequences", though in practice a wide range of topics has been covered by the historians, politicians and military men who have given the lectures since their time.
---
Location
53.380532179466, -1.487441745766
Events at the University
Browse upcoming public lectures, exhibitions, family events, concerts, shows and festivals across the University.