Things are going downhill fast: Understanding massive landslides by Professor Dave Petley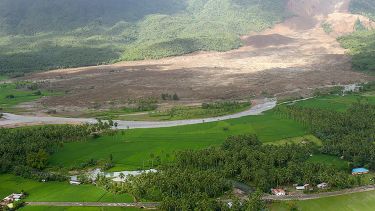 ---
Description
Professor Dave Petley delivered a public lecture to an audience of over 300 on Wednesday 6 March 2019. Professor Petley's lecture, 'Things are going downhill fast: understanding massive landslides' focused on his research area and marked the start of the forthcoming British Science Week.
Professor Petley's lecture began by defining landslides, explaining that landslides occur on a huge range of scales.
Professor Petley went on to discuss the key concepts that are required in understanding landslides, these include: water, the structural change of materials, rocks with defects, earthquakes in mountains and a lack of understanding in why landslides travel so far and fast. Landslides are 'often part of a highly complex chain of events'.
Professor Petley's research concentrates on the impact of landslides in particular. A selection of case studies were discussed, including the 2008 Wenchuan (China) landslide and the 2010 Attabad (North Pakistan) landslide.
The case studies highlighted the social impact and devastation of such natural disasters. When talking about Attabad, Professor Petley elucidated his involvement in the 2010 crisis.
He was an integral part of the relief effort alongside the charity Focus as well as a source of information in understanding why this natural disaster occurred.
Following the lecture, questions were taken from the audience.
The lecture was incredibly interesting and provided the audience with a real insight in to the complexities and varying scales of landslides and the devastation they cause.
Audience feedback
"Fascinating topic, expert and excellent speaker."
"Professor Petley did an excellent job of making a complex subject accessible and interesting."
"I had no understanding of landslides prior to this talk, beyond basic news reports, so the whole thing was a take away for me."
"It was a fascinating talk and I left with a lot to think about."
Watch the lecture
Events at the University
Browse upcoming public lectures, exhibitions, family events, concerts, shows and festivals across the University.