In conversation with Kevin McCabe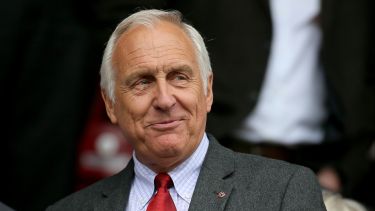 ---
Description
The University was delighted to welcome 500 guests to the Octagon for a special 'In Conversation' evening.
Andy Giddings from BBC Radio Sheffield and regular on Football Heaven was the compere, putting questions to Dr Kevin McCabe and special guest, Chris Wilder, Manager of Sheffield United Football Club.
Kevin is an Honorary Graduate of the University of Sheffield and founder and Chairman of the Scarborough Group of Companies, a company with roots stretching back to 1976 and one of the UK's busiest privately-owned Investment, Development and Leisure corporations.
He remains Chairman and Owner of Sheffield United Limited which owns the Blades Real Estate interests and is a driving force behind the Football Club that does so much for the city of Sheffield.
The special guest had not been announced prior to the event. Chris Wilder was the mystery guest to take to the stage and joined Kevin in the conversations.
Chris is a former professional footballer and has been manager of SUFC since May 2016.
Andy Giddings put questions to Kevin and Chris about business and football and discussed some of SUFC's highlights, including when they were promoted at Bramall Lane against Northampton. Kevin spoke about the spirit of the club and how important the club is for the city of Sheffield, 'United and Wednesday are so important to Sheffield – some clubs at the top have lost their soul' he said.
To conclude the conversations, Andy presented Kevin and Chris with a selection of pre-submitted questions from the audience. The event was highly entertaining and engaging and provided a fantastic insight in to Sheffield United Football Club.
The event also raised money for the Sheffield Scanner, a campaign that Kevin is a keen supporter of, through the sale of raffle tickets. Sheffield United Football Club generously donated five fantastic raffle prizes. The evening raised an impressive £1225.00 towards the Sheffield Scanner campaign and a big thank goes to everyone who contributed to the evening.
Watch the event
---
'Great night, great hosts, great guests.'

'An excellent evening, well organised and delivered.' 

'The event was both interesting and entertaining, I was pleased that by attending I was contributing to the Scanner campaign. I was surprised that Kevin McCabe's special guest was none other than SUFC Manager Chris Wilder - absolutely fantastic!'

Feedback from attendees
---
Enquiries, Email: eventsteam@sheffield.ac.uk, T: 0114 222 1030/222 8893
---
Location
53.380549978698, -1.4885425946481
Events at the University
Browse upcoming public lectures, exhibitions, family events, concerts, shows and festivals across the University.