An audience with Joe Scarborough hosted by Toby Foster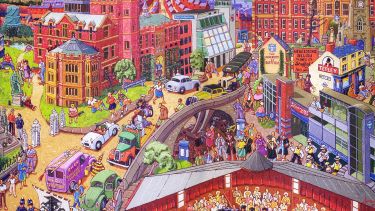 ---
Description
Toby Foster, host of BBC Radio Sheffield's breakfast show, was in conversation with Joe Scarborough, accomplished artist best known for his humorous depictions of scenes from Sheffield life.
Born in Sheffield in the 1930's, Joe shared his journey from pea factory lab technician, to coal miner, through to international renown on his quest to fulfil his childhood dream of becoming a full-time artist. His work is now collected across the world and features in several major collections. We are proud to have commissioned two of his works which are displayed in the University.
Joe shared anecdotes and stories which have influenced his career, along with the challenges and rewards of doggedly pursuing his lifelong passion.
Watch the lecture
---
Location
53.382725428792, -1.4872169482914
Events at the University
Browse upcoming public lectures, exhibitions, family events, concerts, shows and festivals across the University.