Support for care leavers and estranged students
Our approach is to ensure you have all the support you need to fulfil your ambitions. Explore how we'll support you on your journey to the University of Sheffield, throughout your studies and beyond.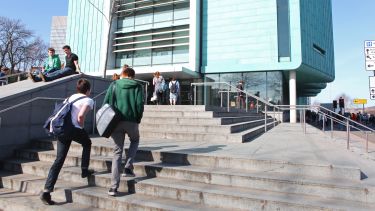 Our approach is to ensure you understand the range of help available to you so that you have the best opportunity to fulfil your ambitions.
We're committed to ensuring that our students have the opportunity to speak to an experienced member of staff at each stage of their journey. We have a team of experts who are able to understand the often complex requirements that students may have if they're currently in or leaving local authority care, or have become estranged from their families.
We are a signatory to the Care Leaver Covenant
We've been recognised for our support for estranged students by the national charity Stand Alone. We provide help in four key areas where estranged students feel the lack of family support the most: access and transition, finance, accommodation, and mental health and wellbeing.
---
Two of our students speak about their time as a student at Sheffield, and the help they received.
Support for estranged students

Support for care leavers
You know what, the first day when I moved in the memories are so vivid still ... it was a nice afternoon ... if felt like a new chapter, I can't describe it.

Agnes
---
How we'll support you
Whether you're just starting to think about higher education or you're looking for more information about what support is available for university students, we're here to help.
If you're care experienced or estranged from your family, we can help you research your higher education options and negotiate the UCAS application process.
All the outreach work that we do is supported by our Student Ambassadors, current University of Sheffield students who are care experienced or are estranged from their families.
Visiting Sheffield
If you'd like to visit Sheffield for an undergraduate open day we can arrange to meet you. Alternatively, if you'd like to visit on a different day, we can arrange for one of our Student Ambassadors, who may have experienced similar circumstances, to meet you and take you on a tour of the campus. You can also speak to us about applying to university. You're welcome to bring a supporter – this could be a friend, guardian or social worker.
There's a lot of people who are from different backgrounds ... everyone just kind of gets along and accepts you for who you are.

Willow
Do you support a young person in care?

If you support a young person in care in Year 7–Year 10, please contact the Higher Education Progression Partnership (Hepp), which works across the Sheffield City Region to encourage more young people to consider higher education opportunities by providing targeted activities for children in care.
---
If you've been in care or are estranged from your family, as part of our Access+ scheme, you may be eligible for an alternative offer equivalent to one grade below the standard A Level entry requirements for your course.
We'd encourage you to complete our Disrupted Studies Application form. This will help us put your application into context.
---
If you're a care leaver or estranged student starting your course with us in September 2020 or September 2021, you could be eligible for a university bursary. This bursary is automatically awarded each year of study.
Unlike a loan, you don't have to pay it back.
The value of the bursary is:
up to £10,000 for full-time students
up to £5,000 for part-time students
University bursary for care leavers
Scholarships
---
We guarantee that care leaver and estranged students living in University accommodation will have the option to stay on campus for the full year and that you'll be placed in accommodation with the majority of new students. In addition, we're happy to waive the usual deposit payment taken as part of the booking process.
We have an award-winning student residential support service. There's a busy calendar of social events and our Residence Life mentors are always on-hand to offer advice and support.
We'll provide you with a welcome pack, including some of the basics you'll need to get up and running such as bedding, towels, kitchen items and some extra goodies as well.
You can stay in University accommodation throughout your studies. As a returning student you'll have the chance to choose a room early before most bookings open.
---
Once you accept your place we'll contact you to discuss joining us at the University and we'll help you discover and access all the help and support that is available.
You'll have a designated contact in our Central Welfare Support Team who you can talk to about any concerns you have before you arrive.
You can be supported by a student mentor when you arrive – a second or third year student who will show you round the department and University and offer one-to-one, confidential advice and support. You will usually be matched with a mentor from your department and, if possible, the same course. You'll be invited to apply for a mentor when you register on your course
You'll have the chance to take part in Orientation Week – this takes place the week before the standard Intro Week for the autumn semester. Orientation Week is a great opportunity to make friends and learn more about the city and campus. You'll be able to attend virtual talks and take part in social activities with staff and student ambassadors.
---
A support network
Your designated contact in our Central Welfare Support Team will keep in touch with you and help you with any issues you have. Wellbeing advisors in your faculty and a contact in your department will be on hand to provide support.
Your mental wellbeing is important to us. Our Student Access Mental Health Support service will help you explore the broad range of psychological support available to you.
Academic support
We can provide you with a support plan to help you access additional academic help and identify any other challenges that you may need support with. All our students are allocated a personal tutor and departments have support staff to help with any issues you might have.
Transitional support for care leavers
Our Central Welfare and Guidance Team offer dedicated transition support to care leavers. You can talk to them about anything from arranging priority consideration for your university accommodation application to any concerns you have about your studies and life at the University. This support will be available to you throughout your time with us.
---
Our Careers Service is available to help you throughout your studies and for up to three years after graduation. Whatever your starting point, and whatever support you need, the Careers Service can help you reach your full potential. You'll have access to one-to-one advice and guidance with a named point of contact, and dedicated additional support through the Discover Your Future initiative.
---
Applying and visiting us

Support before you apply

Funding queries

Are you a student with caring responsibilities?
---
Explore the University
Discover why Sheffield is the right choice for you at one of our open days or events.