We are committed to environmental principles across all elements of our operations.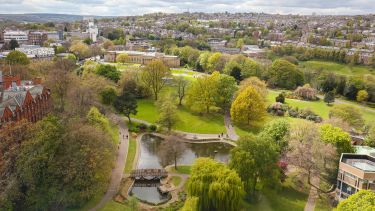 Green Impact
We participate in the Green Impact scheme, competing each year with other departments across the University. Other universities across the country also take part in the scheme, contributing to making our working life an environmentally friendly one.
In the past few years our teams within ACS and UNICUS worked hard to win five gold awards, two silver awards and one of our teams also won an 'Innovation for Engagement and Community Action Special Award'.
---
Using local suppliers
Wherever possible we use local produce to save on the cost of transportation and to support the local economy. Our milk and ice cream comes from the winner of the 2016 BBC Future Food Award Our Cow Molly, and the meat sold or used in many of our commercial operations is supplied by Yorkshire and Derbyshire based firm, Moss Valley Fine Meats.
We also stock Thornbridge Brewery ales, Sheffield Honey, Henderson's Relish and many more locally produced items in The Village Store and across our food and drink outlets. We work in partnership with local companies such as Sleep Geek, who provide specialist bedding products for Halifax Hall hotel.
---
Making an impact globally
We are conscious that our choices don't just have an impact on the local community but the global one too. 
From the usual Fair Trade items like bananas and coffee, to hot chocolate, orange juice and apple juice, we try to ensure as many of our food and drink products as possible are Fair Trade.
Our coffee is triple certified, meaning that it is certified by the Rainforest Alliance and Fair Trade. The Rainforest Alliance is an internationally recognised symbol, which works with businesses to conserve biodiversity and ensure sustainable livelihoods.
In our cafes and outlets we sell Life Water bottled water, which uses 100% recyclable and carbon neutral bottles. For every bottle we buy, Life Water funds the delivery of at least 1,000 litres of clean drinking water to a community in need. We have worked with Life Water for six years, which has led to us being assigned our very own Life Water drop4drop clean drinking water project. The University's first clean drinking water bore-well provides 1,070 people in Andhra Pradesh, India, with immediate access to safe, clean drinking water.
---
Promoting healthy lifestyles
We know that the food and drink we sell in our outlets has an effect on the choices our customers make when it comes to healthy eating.
We avoid using hydrogenated fats in our cooking oils and we also serve organic coffee. Our milk comes from Sheffield's only local dairy farm, Our Cow Molly, which ensures that all our milk is fresh and goes from cow to cup in one day.
We make an effort to include halal, vegetarian and gluten free items in our cafes and outlets and when requested we are happy to adapt our food to suit our customers' dietary requirements.
Aside from our healthy food products and standards, we also boast a fitness trail and an allotment growing herbs and vegetables in the University residences, which are open to staff, students, customers and the residents of the local community alike to use at their leisure.
---
Reusing and recycling
Our ethical considerations extend throughout our service to our customers. In our Delivered Hospitality service, we promote the reuse of our delivery bags as bin bags for waste at the end of an event to reduce plastic waste. The service makes use of reusable or recyclable crockery and cups and we have a platter recycling process in place to ensure that every food platter used is recycled at the end of an event.
We use an environmentally positive alternative to pre-bottled mineral water called the Vivreau water system, which is now installed in Firth Court, Halifax and The Edge. The system is plumbed into the mains water supply, fed through a purification system and decanted into branded water bottles for all our events and conferences. This system reduces our usage of plastic bottles by about 3,000 per year.
Across our venues and offices, customers and employees are encouraged to use the on-site compost caddies for food waste, general recycling bins for plastic, paper and tins. Office staff also have access to confidential waste recycling bins for additional paper waste.
---
Environmental projects with our students
In addition to our internal sustainability initiatives, we also run a number of schemes and projects for our students, from the Donate, Don't Waste household and clothes recycling scheme to the Student Switch Off where students compete to reduce the energy usage in their accommodation block by the highest proportion compared to other university residences across the country.
We also work with ReFood to offer a food waste recycling scheme across the residences and within our commercial outlets.
---
Sustainability awards and ratings
A world top-100 university
We're a world top-100 university renowned for the excellence, impact and distinctiveness of our research-led learning and teaching.