We are at the cutting edge of modern archaeology and one of Europe's most respected departments. Our unique approach to archaeological research draws upon the integrated strengths of the humanities, natural and physical sciences.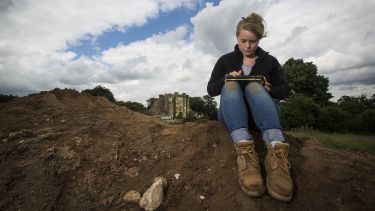 World archaeology: Made in Sheffield
Established in 1976, the department has played a leading role in the development of archaeology as a modern discipline and are ranked among the top 50 archaeology departments in the world (QS World University Rankings® 2021)
We're a dynamic and vibrant international community of archaeologists, committed to exploring the past and answering the big questions that help shape our future.
We inspire our students to explore and excel in a climate of academic excellence, innovative teaching and world-class research conducted in the UK, Europe and beyond. We're one of Britain's foremost archaeology departments but Sheffield is no ivory tower university – and archaeology is a subject where academics and students alike famously get their hands dirty.
---
Teaching and research
At Sheffield we successfully combine global partnerships and work with local communities to produce world-leading research which has real impact, frequently sharing the insights of our academics through programmes of public events.
We offer one of the largest portfolios of postgraduate archaeology degrees of any UK university. Our research-led teaching integrates humanities and science-based approaches to study the human past.
Our research influences modern archaeological practice both in the academic and professional sphere. Our areas of expertise include Prehistoric Europe, Classical Antiquity, Medieval and Post-Medieval Britain as well as landscape archaeology, funerary archaeology, material culture studies, bioarchaeology and the archaeology of the Mediterranean
---
Facilities
The Archaeology Department is situated close to the main campus and a short distance from Sheffield's city centre. We have world-class reference collections and the Department of Archaeology is home to a state-of-the-art range of scientific research facilities that complement the activities of our research clusters and support teaching and learning in a range of archaeological disciplines. Our facilities also include study areas for research students, social space and specialist custom-built laboratories.
A world top-100 university
We're a world top-100 university renowned for the excellence, impact and distinctiveness of our research-led learning and teaching.