Sheffield Archaeology graduates hold positions all over the world – we have a global network consisting of over 3,200 alumni.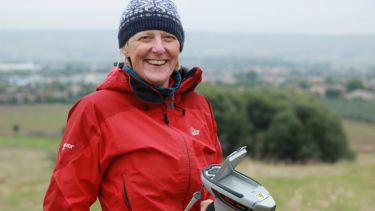 Pictured: Kate Welham, Professor of Archaeological Sciences at Bournemouth University and a University of Sheffield archaeology alumni.
Your career as an archaeology graduate
An archaeology degree is one of the most multi-disciplinary and transferable qualifications – reflected in the wide range of careers held by our alumni, including commercial archaeology, academia, financial services, the media, healthcare, IT, journalism, teaching and law.
Many graduates also remain in archaeology, either in a commercial or academic role, directly using their archaeology skills all over the world.
Wherever they are and whatever they do with their studies, we are exceptionally proud of our alumni community and they remain valued and celebrated ambassadors for the department.
---
Remember that all archaeologists know each other. No matter how obscure the conference, or how many continents away you are, they almost definitely know the same people that you do. So make friends with everyone!

Samantha Stein, Sheffield alumni

Assistant Science Advisor for Historic England; formerly geoarchaeologist for Trent and Peak Archaeology
---
University of Sheffield alumni
As soon as you graduate you automatically become a lifetime member of the University of Sheffield. Some of the benefits you can receive as an alumni include:
Careers advice
Free library and e-journal access
Reunions and events
Free online courses
10% discount on postgraduate courses
Lifetime membership to the Students' Union
Discounts on sports facilities and University of Sheffield concerts
To access benefits and services as an alumni make sure you register and keep your details up to date.
---
Keep in touch
We are always interested to hear what our graduates are up to and are constantly looking for ways to help people keep in touch with the department and each other. If you have any ideas or news that you would like to share please email archaeology@sheffield.ac.uk and we will be in touch.
To keep informed about everything happening in the Department of Archaeology, including news, events and research activity, follow us on social media:
Weekly online events
Attend an online event when it suits you, all year round, as an alternative to an open day.
Every Wednesday, Sheffield Live sessions cover different aspects of University life. You can also meet your department and learn more about studying your subject.