Beauchief Fieldcourse Exhibition in the Department of Archaeology - This Week!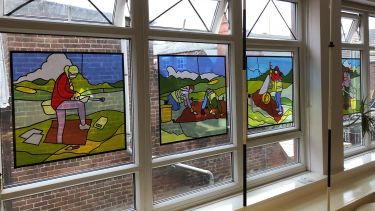 About the Field Course 
The Level 1 and 2 field course this year was held at Beauchief Abbey and Park in the south of Sheffield. Students worked for four weeks in conjunction with staff and postgraduate students from the department. The main focus of this course was to investigate a series of features related to the Abbey as well as to conduct surveys throughout the nearby woodlands. Students gained valuable experience in surveying, digging, and post-excavation processing of finds. The field course was a big success for the students and staff as they found some sections of the precinct boundary walls as well as pieces of medieval pottery, some of which can be seen on display here at the exhibition. 
Short History of Beauchief Abbey  
Beauchief Abbey used to be a Premonstratensian monastery that was founded by a group of monks in the 1170s.The name Beauchief was inspired by the Norman word for 'beautiful headland'. Beauchief was a medium-sized Premonstratensian house with probably never more than 21 monks in residence at any one time. Despite the small population, Beauchief had extensive holdings with granges in places around Sheffield and a number of mills along the River Sheaf. In 1536, the national Dissolution of the Monasteries, led by Henry VIII, left the abbey in ruin and decay. Subsequently, the abbey was sold and remained in the Strelley family until 1923. Today, the land around Beauchief Abbey is run as a golf course and the building itself is maintained by Sheffield City Council and the local congregation.
About the Exhibition 
The idea for the art exhibition came from our site director Colin Merrony who wanted to put a new spin on the interpretation of archaeology. Artists and students have been involved in creating the exhibits, including film, mixed media collage, stained glass windows and installations. The students have also arranged a display of material finds from the site. 
Please come and have a look at the exhibition in the Common Room at Minalloy House, open 9-5pm, until 22 October.
We hope you enjoy it!
Events at the University
Browse upcoming public lectures, exhibitions, family events, concerts, shows and festivals across the University.