Dr Katherine Fennelly
Department of Archaeology
Senior University Teacher in Cultural Heritage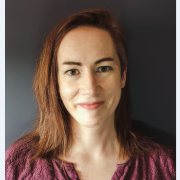 k.fennelly@sheffield.ac.uk
Minalloy House
Full contact details
Dr Katherine Fennelly
Department of Archaeology
Minalloy House
Regent Street
Sheffield
S10 2TN

Profile

Katherine is a researcher in historical archaeology and cultural heritage. Her previous research has looked at the buildings and landscapes of welfare and confinement in the eighteenth and nineteenth centuries. Her work considers the legacy of institutionalisation, and the heritage of sites associated with confinement. More recent work has considered poverty and migration in the urban landscape, and the use of archaeological representations to tell difficult stories about the past.
Qualifications

2013 - PhD – University of Manchester
2008 - MA – University College Dublin
2007 - BA (Hons) – University College Dublin
Research interests

Research Interests

Built heritage of institutions for welfare and confinement
Landscapes of social improvement – archaeology and cultural heritage management
Legacies of institutionalisation
State provision and migration
Cultural representations of heritage practice

---

Current research projects/ collaborations

Heritage without a House: post-material heritage and the literary archive

This is a collaboration with Dr Cassandra Ulph to investigate sites of literary and cultural interest where a physical building or site no longer exists. The project focuses on Streatham Park, the now-demolished home of Georgian literary figure Hester Thrale Piozzi, and considers the heritage value and wellbeing-benefit in celebrating the history of the site and its occupants. This collaboration has been ongoing since 2021 and has been supported by the John Rylands Research Institute. Knowledge exchange work with local heritage groups in 2022 and 2023 are supported by the University of Sheffield's Arts & Humanities Knowledge Exchange. 

Collaborative Media Archaeological Research on Robert Owen's Socialist Project 'Harmony Hall' in Hampshire

This project was a collaboration with media scholar Martin Doll (Heinrich-Heine-Universität Düsseldorf), enabling joint research on the architectural difference between ideal and realization at Robert Owen's proposed utopian settlement, Harmony Hall in Hampshire, UK. Katherine is focusing on the material structure and remains of the building and its legacy, both intellectually in discourse on utopian settlement, and materially in the rural landscape. The project was supported by British Academy Seed Funding.

Constructive Play: Lego for learning in history, heritage and beyond

In 2018/19, Katherine worked with Dr Jamie Wood (University of Lincoln) on a project to explore the potential of play in supporting student learning in the arts. The project focused on the use of Lego and classroom activities and worked with students to explore how play activities can be applied in understanding abstract thought and to visualise learning. 

 Dig it! Bandstand

Between 2016 and 2018, Katherine directed excavations on historic bandstand sites in Sheffield alongside Colin Merrony. Focusing on two Edwardian bandstands in Firth Park and Meersbrook Park, the project sought to establish the situation and construction models for urban bandstands. Students from schools around Sheffield were invited to take part and work alongside students from Sheffield and Lincoln and community volunteers on the sites. 

The Bedehouse Project

Supported by the Council for British Archaeology, the Bedehouse Project was a survey project on the gardens and interior of Lyddington Bedehouse, an English Heritage property in Rutland. The Bedehouse was established in the former palace of the Bishop of Lincoln after the Dissolusion, and in the later historical period was a small, rural welfare institution. The project entailed a geophysical survey of the gardens which turned up the remains of allotments, and a 3D Scan of the main chamber in the building to identify changes in the layout. 

Institutional Districts Project

This research looked at the development of cities and towns around lunatic asylums and workhouses in the nineteenth and twentieth century. The project involved the desk-based assessment of two urban locales and archival research in London and Dublin. Some of this research, on a case study in Dublin, was published in Urban History in 2019. The Society for Post-Medieval Archaeology supported an extension of this research project in 2015, to examine the urban development of the city of Lincoln around the lunatic asylum there. The results of that project were published in An Archaeology of Lunacy (2019). 
Teaching activities

Programme Director, MA Cultural Heritage Management

Programme Director (2022-23, Semester 2), MA Archaeology

Module coordinator, AAP6102: Heritage, History and Identity

Module coordinator, AAP637: Heritage, Place and Community
Professional activities and memberships

2019–present, Fellow, Higher Education Academy
2017–present, Fellow, Society of Antiquaries of London
2018–2023, Journal Editor, Post-Medieval Archaeology

---

Recent invited talks and lectures

Invited Speaker, 'The Dark and Difficult Heritage of the Historic Lunatic Asylum Building.' Alexander von Humboldt Foundation and the British Academy, Frontiers of Humanities Symposium (Summer 2021)
Invited Speaker, 'Landscapes and Lunacy', Archaeology Café UK (Spring 2020)
Invited Speaker, 'Excavating Bandstands.' Research Seminar, University of Sheffield (Winter 2019)
Invited Speaker, 'The Built Heritage of the Georgian Asylum.' Research Seminar, University of Leicester (Spring 2017)
Invited Speaker, 'An archaeology of the sonic.' Recomposing the City, Queens University Belfast (Spring 2015)
Invited Speaker, 'Lunatic Asylums and the Sonic Environment.' Radical Media Forum, Goldsmiths, University of London (Autumn 2014)
Publications

Books

Forthcoming, (with C. Newman), Poverty Archaeology: Architecture, Material Culture, and the Workhouse under the New Poor Law. (forthcoming)
2019, An Archaeology of Lunacy: Managing madness in early nineteenth-century asylums. Manchester: MUP. 

Journal articles and book chapters

Forthcoming, 'The manager's children: family space and a private life in the nineteenth-century asylum.' In: Kamp-Whittaker, Devine, and Spencer-Wood. Historical Archaeology of Childhood and Parenting: Materialized Experiences, Discourses, Identities, Places, and Meanings. New York: Springer.
2022, 'Archaeology, Emotional Storytelling, and Performance.' Public Archaeology (https://doi.org/10.1080/14655187.2022.2149683)
2022, 'Mapping Poverty in Gotham: Visualising New York City's Almshouse Ledgers from 1822 to 1835.' International Journal of Historical Archaeology (https://doi.org/10.1007/s10761-022-00671-6)
2022, (with E.C. Casella), 'Social Welfare Institutions.' In: Casella, Nevell and Steyne. The Oxford Handbook of Industrial Archaeology. Oxford Handbooks. 
2020, 'The Institution and the City: the impact of hospitals and workhouses on the development of Dublin's north inner-city, c.1773–1911.' Urban History 47 (4): 671-688. 
2018, 'The Bedford Asylum: building for the 'industrious child' in early nineteenth-century Dublin.' In: Baxter and Ellis. Nineteenth-Century Childhoods in Interdisciplinary and International Perspectives. Oxford: Oxbow. 
2017, 'Materiality and the urban: recent theses in archaeology and material culture and their importance for the study of urban history.' Urban History 44 (3): 564–73.
2017, (with C. Newman), 'Poverty and Illness in the Old Countries: archaeological approaches to historical medical institutions in the British Isles.' International Journal of Historical Archaeology 21 (1): 178–97.
2017, 'Religion in the asylum: lunatic asylum chapels and religious provision in nineteenth-century Ireland.' In: R. Nugent et al, eds. Archaeologies of Rules and Regulations. Oxford: Berghahn. 
2016, (with E. C. Casella), 'Ghosts of Sorrow, Sin and Crime: Dark Tourism and Convict Heritage in Van Diemen's Land, Australia.' International Journal of Historical Archaeology 20 (3): 506–20.
2014, 'Out of Sound, out of Mind: Noise control in early nineteenth-century lunatic asylums in England and Ireland.' World Archaeology 46 (3): 416–30.