Material culture studies are a central theme in our department, reflected in our broad research portfolio and number of postdoctorates and PhDs.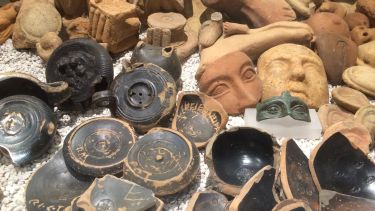 In the department there are several staff members whose prime areas of research focus on the analysis of materials. Specialising in ceramics, metals and glass, but also conducting research into stone and other materials. In addition to our main teaching in materials at undergraduate and graduate levels we have also run a number of successful short courses in analysis.
Our research in material culture spans the Neolithic to the early modern period, to the study of production, consumption, classification and analysis and uses analytical, ethnographic and experimental methodologies. We have conducted research in early copper metallurgy, experimental iron production, ceramic and glass analysis and worked extensively with assemblages of different periods and geographical areas. Our current interests centre on Russian, Chinese, Greek and British material. We benefit from excellent microscope facilities and have dedicated laboratories.
---
Current research
Archaeomaterials facilities in the department

The Department of Archaeology has a number of dedicated archaeomaterials laboratories where staff and students are able to experimentally recreate and carry out scientific analysis of archaeological materials. These include a dedicated archaeomaterials teaching laboratory, thin sectioning equipment for ceramics, equipment for the mounting and polishing of glass and metal samples, and thin section microscopes.

Active research projects

MEMOLA - Mediterranean Mountainous Landscapes
Ceramic Technology at Final Neolithic to Palatial Phaistos, Crete
Smart Mortars - Archaeomimetics
Cultural transmission and social complexity of Steppe communities during the Bronze Age (in collaboration with Bryan Hanks, University of Pittsburgh)
Use of pXRF in Archaeology
Early Bronze Age metal Production at Ecton Hill, Staffordshire
The analysis of Roman glasses to elucidate the organisation of production (Roman glasses are now known to have been produced in the Eastern Mediterranean; this project tries to trace, through scientific analysis, the lifecycle of glass from production to consumption)
Early Egyptian glasses (this research has highlighted that glass was produced in Egypt much earlier than has been originally envisaged)
An investigation of ceramics from Torksey
Researchers
Cultural materials research staff
Recent publications
Recent publications

Miguel Gascón E, Buxeda i Garrigós J, Day PM. Central Mediterranean Phoenician pottery imports in the Northeastern Iberian Peninsula Journal of Archaeological Science: Reports 3:237-246 01 Sep 2015 (Journal article)
Mentesana R, Day PM, Kilikoglou V, Todaro S. United in our differences: The production and consumption of pottery at EM IB Phaistos, Crete Journal of Archaeological Science: Reports 15 Nov 2014 (Journal article)
Carvajal JC, Day PM. Cooking pots and islamicization in the early medieval vega of granada (Al-andalus, sixth to twelfth centuries) Oxford Journal of Archaeology 32(4):433-451 01 Nov 2013 (Journal article)
Jorge A, Dias MI, Day PM. Plain pottery and social landscapes: Reinterpreting the significance of ceramic provenance in the Neolithic Archaeometry 55(5):825-851 01 Oct 2013 (Journal article)
Frahm E, Doonan R, Kilikoglou V. Handheld Portable X-Ray Fluorescence of Aegean Obsidians Archaeometry 56(2):228-260 Apr 2014 (Journal article)
Frahm E, Doonan RCP. The technological versus methodological revolution of portable XRF in archaeology Journal of Archaeological Science 40(2):1425-1434 01 Jan 2013
Jackson CM, Cottam S. 2015 'A green thought in a green shade'; Compositional and typological observations concerning the production of emerald green glass vessels in the 1st century A.D. Journal of Archaeological Science 61:139-148 Article number C Sep 2015 (Journal article)
Bayley J, Freestone I. and Jackson, C.M. 2015 glass of the roman world  Oxbow Books in Association with the Association for the History of Glass, Oxford 01 Apr 2015 (Edited book) 
Jackson CM, Paynter S. 2015 A Great Big Melting Pot: Exploring Patterns Of Glass Supply, Consumption And Recycling In Roman Coppergate, York* Archaeometry 29 Jan 2015
Willmott H, Welham K. Saxon Glass Furnaces In Glastonbury Abbey: archaeological investigations 1904–79. Editors: Gilchrist R, Greene C. 218-238. Society of Antiquaries of London, London 2015
Willmott HB. Table glass in the West Country home, c.1500-1700 In West Country Households, 1500-1700. Editors: Allan J, Alcock N, Dawson D. 321-338. Boydell Press, Woodbridge 2015
Related postgraduate courses
Flagship institutes
The University's four flagship institutes bring together our key strengths to tackle global issues, turning interdisciplinary and translational research into real-world solutions.