Material culture studies are a central theme in our department, reflected in our broad research portfolio and number of postdoctorates and PhDs.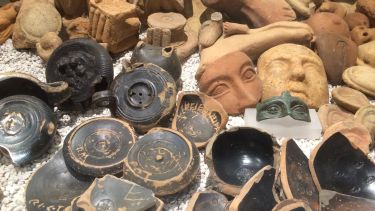 In the department there are several staff members whose prime areas of research focus on the analysis of materials. They specialise in ceramics, metals and glass, but also conduct research into stone and other materials. In addition to our main teaching in materials at undergraduate and graduate levels we have also run a number of successful short courses in ceramics analysis.
Our research in material culture spans the Neolithic to the early modern period, to the study of production, consumption, classification and analysis and uses analytical, ethnographic and experimental methodologies. We have conducted research in early copper metallurgy, experimental iron production, ceramic and glass analysis and worked extensively with assemblages of different periods and geographical areas. Our current interests centre on British, Greek, and Chinese material. We benefit from excellent microscope facilities and have dedicated materials laboratories.
View our staff and research students
---
Current research
Archaeomaterials facilities in the department

The Department of Archaeology has a number of dedicated archaeomaterials laboratories where staff and students are able to experimentally recreate and carry out scientific analysis of archaeological materials. These include a dedicated archaeomaterials teaching laboratory, thin sectioning equipment for ceramics, equipment for the mounting and polishing of glass and metal samples, and thin section microscopes.

Current research projects

Ceramic Technology at Final Neolithic to Palatial Phaistos, Crete
Copper smelting technology in the Aegean
Early Egyptian glasses 
Early medieval amber provenancing and trade
Early medieval glass trade
MEMOLA - Mediterranean Mountainous Landscapes
The organisation of the production of Roman glass
Smart Mortars - Archaeomimetics
The spread and chronology of iron production technology through the Old World
Use of pXRF in Archaeology
Related postgraduate courses