Dr Wei Yang is inaugurated as the President of the Royal Town Planning Institute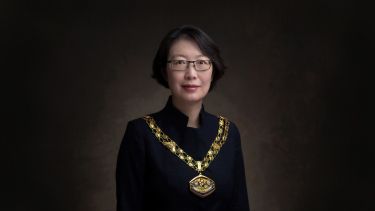 Dr Wei Yang has been inaugurated this week as the President of the Royal Town Planning Institute (RTPI). Dr Yang studied her masters and PhD at the University of Sheffield between 1999 to 2005, before pursuing a successful career in town planning and urban design.
"I thoroughly enjoyed my five-year study experience at Sheffield University," says Dr Yang. "I was supported by highly professional and friendly academic and administrative staff. I also benefited enormously from the university libraries' world-class collections and services."
While she was studying for her PhD with the School of Architecture, Dr Yang began working for the planning firm David Lock Associates, before founding Wei Yang & Partners in London in 2011. She still feels a close connection to Sheffield, however.
"Sheffield is my hometown in England," Dr Yang says in her interview with the RTPI's magazine, The Planner. "I've always been keen on the rural life and nature, so pictures of the Peak District attracted me. I applied to Sheffield University in 1999."
Dr Yang's interest in nature can be seen in much of her work on garden cities, which has shaped her approach to planning. She self-funded research on garden cities and new towns in 2011, and her firm led a consortium proposal to the Wolfson Economics Prize on the theme of 'Delivering an economically viable garden city' in 2014.
As well as the beauty of the Peak District, the residents of the Steel City also left an impression on Dr Yang. "People from South Yorkshire are so friendly," she told The Planner.
"In an early university project I met a couple, John and Sheila Holt, while conducting a simulation project for Sheffield Cathedral. They invited me to dinner, and have since become lifetime friends. They helped me to understand English society. Today they're like my parents in England. We still visit each other every year."
Dr Yang had been the RTPI's Vice-President before her inauguration as President, and is also a Chartered Fellow of the RTPI and a Fellow of the Academy of Social Sciences.
Read the full interview on The Planner's website.
Find a PhD
Search for PhD opportunities at Sheffield and be part of our world-leading research.