Our research facilities in Cryo-Electron Microscopy include electron microscopes, specimen preparation, image analysis and computing, and 2D crystallisation where crystals can be screened on our home built flow dialysis unit.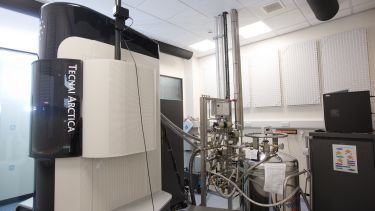 The research facilities in Cryo-Electron Microscopy are funded through grants from BBSRC, Wellcome Trust, Royal Society, and Wolfson Foundation.
Electron Microscopes
Samples are routinely screened on a Philips CM100 100 kV electron microscope. This is equipped with a LaB6 gun and Gatan 1Kx1K digital camera. High-resolution images (15 Å to near-atomic) are recorded on a 200kV Tecnai Arctica, FEI Cryo-EM microscope.
Specimen Preparation
Specimens are mounted on carbon-coated grids for negative staining or ice embedding. We have a Cressington 208 carbon evaporator/glow discharge unit for grid preparation. A freeze-plunger unit is available for ice embedding.
Image Analysis and Computing
Film data can be digitised at high resolution and high precision on our Zeiss Phodis SCAI microdensitometer. At lower resolution we have a Nikon 8000 film scanner. Images of 2D crystals are analysed using MRC software whilst single particles are analysed with SPIDER and IMAGIC. Computing is mainly on UNIX based workstations along with minor applications on WINDOWS or LINUX based PCs.
2D crystallisation
Conditions for growing 2D crystals of membrane proteins can be screened on our home built flow dialysis unit.
Flagship institutes
The University's four flagship institutes bring together our key strengths to tackle global issues, turning interdisciplinary and translational research into real-world solutions.