People
We have dedicated facility managers and technicians who can support your project's needs, as well as world class expertise in our academic team. Contact us to find out more about accessing our equipment.
Electron Microscopy Facility Manager
TEM - Tecnai, CM100, freeze-plunging)
Telephone: +44 (0)114 222 4674

Email: s.b.tzokov@sheffield.ac.uk
Electron Microscopy Facility Manager
SEM and CLEM, TEM and SEM, High Pressure Freezer, Ultramicrotomy
Email: c.j.hill@sheffield.ac.uk
Professor of Structural Biology
Per's team focuses on two challenging areas of structural biology: membrane proteins and very large macromolecular complexes. Their main technique is high resolution cryo-electron microscopy, which is often used to complement other structural techniques such as X-ray crystallography.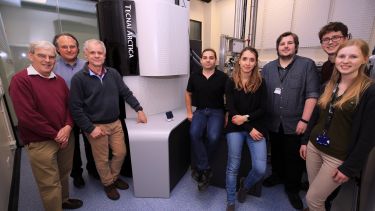 Our team at the launch of the Arctica cryo-electron microscope with Nobel Prize winner Dr Richard Henderson.