Latest news
Access Talent business drop in
Are you thinking about recruiting students or graduates?
The Careers Service invites local businesses to come along to discuss their recruitment needs with their friendly and knowledgeable team. The drop in session will be held on Tuesday 14th January 9am-11.00am in their Student Jobshop, Level 3 of the Students' Union, Western Bank, Sheffield.
Whether you are recruiting for part-time work, summer & year-long placements, or graduate jobs we can help you connect with students.
We offer:
• A student vacancy system where you can advertise your roles FREE of charge
• Advice and support on recruitment including information about course content, creating job adverts, running a placement and graduate starting salaries
• Bursaries and funding for summer placements and graduate jobs
• An initial application sift service
• A range of opportunities for you to engage with students and graduates from your target disciplines
• Space to meet students in our Students' Union, awarded best Students' Union in the UK
To find out more come along for a chat about how we can best support you. Please do let us know if you will be attending by emailing at employers@sheffield.ac.uk
09 December 2019
The University of Sheffield Department of Physics and Employability
The University of Sheffield Department of Physics and Employability runs a series of weekly employability seminars for all students from years 1-4. The second semester focuses on industry input and provides an opportunity for employers to get involved in various learning experiences.
The seminars will run on Wednesday afternoons in the Hicks Building from 1-2 pm. The lecture theatre holds 209 students, and there will be an opportunity to set up a small stand in the building should you so wish to network with students.
Physics students graduate with a unique set of transferable skills including communication,organisation and interpersonal, research and intellectual skills, numeracy, computing and problem solving. We are therefore seeking any employers who have an interest in recruiting Physics graduates who would like to work more closely with the department.
For more information please contact cheryl.moss@sheffield.ac.uk
18 November 2019
Recruit an undergraduate intern
Our Employability Advantage Scheme awards bursaries to undergraduate students allowing them to undertake 100-hour internships. The scheme is open to students from the following University Departments: Geography; Urban Studies and Planning; East Asian Studies; Sociological Studies.
If you have a suitable opportunity, we will advertise it on our vacancy database and forward applications to you. Then it is over to you to shortlist, interview and select. If you recruit an intern through this scheme, the successful intern can apply for a bursary of £1,000 to cover their expenses. Host organisations must have business premises where the intern can work, and Employer's Liability Insurance.
All internship hours must be completed by 30 July 2019.
Submit a project here - the deadline for submitting a project for consideration is 26 April 2019.
For more information please email pas@sheffield.ac.uk 
Student Employee of the Year Awards 2019
It's that time of year again when we ask for your help to get Sheffield students recognised for all their hard work. Do you employ an amazing and outstanding University of Sheffield student who works part time whilst they study?
Employers are being invited to nominate their student employees for the Student Employee of the Year Awards 2019 to recognise the contributions that they make.
These awards aim to recognise and promote the outstanding contributions and achievements of students who combine part-time work with their study commitments.
The Careers Service at The University of Sheffield is promoting the Student Employee of the Year Awards 2019. Last year a team of two students from The University of Sheffield won an award at national level.
Students can really add something to a business and the growth in the Student Employee of the Year awards year on year shows that employers recognise this. Help your student employee 'stand out from the crowd'. Nominating them for this award will;
• Recognise the contribution they make to your business
• Enhance their CV
• Have a positive impact on their future
• Boost your business profile
If a University of Sheffield student is exceptional, then it's worthwhile spending the time nominating them and having a positive impact on their future. This year the award has been enhanced and two new categories have been added;
Employers can now nominate in the following 5 categories;
• Above & Beyond Award
• Commercial Impact Award
• Step up the Leadership Award
• Best Team (NEW)
• Freelancer (NEW)
Employers wishing to nominate a student for the Student Employee of the Year award can nominate online here and select 'off campus'.
The closing date for online nominations is 29th March 2019. If employers would like to discuss the awards before making their nomination or need further information please do not hesitate in contacting the University of Sheffield Student Jobshop, studentjobshop@sheffield.ac.uk or call 0114 222 0940.
14 March 2019
Computer Science, Engineering and Science graduates
We're looking for recent Computer Science, Engineering and Science graduates from the University of Sheffield who are working in the technology and engineering industries to support our Global Engineering Challenge and Engineering you're Hired Alumni Days . If you have Sheffield graduates working in you company who would like to come back to campus for a day to support current students, we'd love to hear from them!
Global Engineering Challenge - Alumni Day
Wednesday 23 January 2019, 9 am - 4.30 pm
Register here
Engineering, You're Hired - Alumni Day (Industry Mentors)
Wednesday 30 January 2019, 9.30am-4.30pm
Register here
Your role:
Share your career experiences with students
Give feedback on student projects and presentations
Provide part in a networking session with students
Showcase your company and talent spot for graduate opportunities
Lunch and light refreshments provided.
We hope you can join us for one or both of these events and look forward to hearing from you.
05 December 2018
Get noticed
"Donate a prize to our monthly Careers competition and get your logo and url in our What's On email - sent to over 38,000 students and graduates! You'll also receive exposure on social media throughout the month.
Alternatively, why not sponsor one of our 300 student societies and put your name where it matters to you. View the full list of societies at: https://su.sheffield.ac.uk/groups
For more details and to express your interest please contact us, either by email to employers@sheffield.ac.uk or by phone, 0114 222 0900.
11 Nov 2018
Calling all Arts and Humanities alumni
We are looking for inspirational Arts and Humanities graduates from the University of Sheffield working in Sheffield or the wider region to support current widening participation students explore their career options and develop their networking skills.
Northern City Connections
Wednesday 21 November, 6.00pm - 8.30pm
The Crucible Theatre, 55 Norfolk St, Sheffield S1 1DA
About Northern City Connections
Northern City Connections is a brand new event based on the success of our London City Connections programme. We want to replicate this model to show our students some of the great companies and career opportunities available to them in Sheffield and the wider northern region.
The event aims to increase the confidence, business knowledge, skills and aspirations of our students. The students attending are the first in their family to attend University, from areas where few people go on to further education or from low-income households. Many of the students don't have family or friends working in the careers that they aspire to, and therefore our alumni community can be a powerful network for them.
The students will spend the day visiting different companies linked to University of Sheffield alumni, culminating at the evening networking event where they will have the chance to meet a range of successful alumni who are working in Sheffield or the wider northern region.
Alumni involvement
We would really appreciate if Arts and Humanities alumni from your company could attend the evening event to informally speak to students about their career and share their advice with them.
Through talking to alumni, we hope students will build their confidence networking and in their future employability prospects. We will share alumni biographies with the students attending to help them prepare for the event.
A drinks reception and canapes will be served.
If alumni would like to attend, please ask them to complete this short registration form.
19 Sept 2018
Roll up, roll up – the Part Time Jobs and Volunteering Fair is back
If you are looking to fill local paid part-time roles in your organisation, this Fair on Thursday 27 September is for you…
Now well established at the University of Sheffield, the Part-time Jobs and Volunteering Fair takes place at the start of the academic year - giving you a great opportunity to meet students in all years of study when they are actively looking for work. If you are looking for reliable staff in retail, hospitality, research, IT, education, events, security, administration, health and social care or any other area, why not join us on Thursday 27 September?
By coming to the Part-time Jobs Fair you can:
• promote your part-time jobs (suitable for vacancies up to 16 hrs per week in term-time)
• recruit a pool of casual/bank workers to provide cover at busy times
• meet students face to face – over 2000 students attended a similar event last year
• promote your organisation on campus
• recruit volunteers* (Contact SheffieldVolunteering :volunteering@sheffield.ac.uk) The Fair is FREE to attend but places are limited and will book up quickly! What you get:
• your attendance and your vacancies promoted to students at the University of Sheffield
• an exhibition area, with table and chairs
• hot drinks whilst the Fair is open
• bottled water on your table
NB: Sorry, lunch is NOT provided so feel free to bring your own Interested?
Register your interest on Career Connect now
(Please note bookings are not confirmed until you receive a confirmation email)
*NB: The Student Jobshop is handling the bookings for organisations offering part-time paid work only and who will have current vacancies to advertise on the day.
If you are seeking volunteers and would like to attend the Fair please contact Sheffield Volunteering: volunteering@sheffield.ac.uk or 0114 222 8530
13 June 2018
RISE
RISE Sheffield City Region is a fully funded graduate recruitment scheme for SMEs, jointly funded by the SCR Growth Hub, The University of Sheffield and Sheffield Hallam University.
The Scheme provides local SMEs with fewer than 250 employees, support with recruiting graduates and includes:
* Free job advertising and screening of applicants through a comprehensive selection process
* A shortlist of candidates to interview and select from
* Free business support throughout including scoping out roles, line manager training, interview guidance and toolkits
* Support for your graduate(s), including a free graduate development day, toolkits and membership to the Junior Chamber International
* A £1,000 wage subsidy for the first graduate you recruitment via the scheme
* Opportunities for you to network, learn and share with other SMEs
Feedback for the scheme:
Sinead O'Neill, HR Manager of Magtec: "At Magtec we have used RISE to recruit several outstanding graduates. The whole process was so simple, from helping understand our skills need to writing the job descriptions in a way that would attract graduates, we got the right mix of candidates through the selection process. We had a great experience and I hope to see RISE continue into the future to help other SMEs too".
Rachel Moss, Head of Regional Projects for Today Translations: "RISE took the time to understand our requirements and provided excellent candidates and an extremely positive interview experience".
Derek Scotton, HR Manager, Harvest Healthcare Ltd: "We had a first-rate service from RISE. The candidates were excellent, and we have a very good intern in place. Communication very good. We would certainly use them [the RISE scheme] again".
The deadline to sign up is 19th June. To find out more visit: http://www.welcometosheffield.co.uk/rise or contact Gabi Binnie (gabi@gradconsult.co.uk)
17 May 2018
Access talent chat - Tuesday 1 May
If you missed our Drop-In earlier this month, don't panic! We are inviting local organisations into the Careers Service for a coffee and the chance to chat to staff about how we can help you find the expertise you need for a project, additional staff to get you through a busy period or graduates to develop into the future leaders for your organisation.
We have bookable appointments available from 8.30am - 6.00pm, including over lunchtime, to fit around your diary commitments.
Find out the best ways to engage with our students and/or graduates and how to effectively promote your organisation on this campus. Staff will also be able to offer advice on recruitment practices and assist with other questions you may have.
To book, email: employers@sheffield.ac.uk or tel: 0114 2220900.
We look forward to seeing you!
19 April 2018
Give your schemes a final push
If you are still trying to fill your remaining graduate scheme and summer or year-long placement roles, let us know. As students are approaching the end of the academic year, now is a great time to advertise any roles that you have remaining.
Whether you are seeking applications from specific disciplines or if you recruit from any subject, submit your vacancies via Career Connect where they can be viewed by our students and graduates. If you haven't used the system before, select 'forgot password' to set yourself a password and you can submit roles as and when they become available, modify and re-post your entries as well as book onto our events. So far this year we have handled over 5,000 vacancy adverts
If you would like to enhance your advert by holding a webinar, online networking or conducting video interviews or gain access to a searchable pool of candidates who are looking for work, why not take part in our Online Jobs Fair - 25-29 June 2018.
19 April 2018
Take part in our Researcher Challenge
We are organising a Researcher Challenge from the 18th-20th June which provides an opportunity for you to meet and work with our PhD students and raise your profile at the University.
There are a number of ways you can participate in the event:
Monday 18 June:
Providing a plenary session to students on team working, professional behaviour or similar.
Tuesday 19 June:
Providing a challenge for the event. You can set a real problem facing your business or sector and ask groups of students to work on the challenge.
You would discuss the challenge with students at a breakfast briefing. Following that the groups
would meet with you during the day to discuss progress on the tasks, and you can provide feedback
throughout the day.
In the afternoon, students will present their work to you. You would then select a group to go through
to the final pitches/presentations during the evening.
If you are unable to provide a task for the day, there is also the opportunity to act as
a facilitator to help advise students on other tasks.
Wednesday 20 June:
Running a plenary session for students to help them reflect as a team on their challenges - topics
could include peer review feedback and evaluation.
For more information about the event, please contact Mari Brazil m.brazil@sheffield.ac.uk or Ellie Shepherd ellie.shepherd@sheffield.ac.uk
17 April 2018
The Use of Gamification in Graduate Recruitment

With today's modern technology, a growing number of employers are using gamification in their attraction, recruitment and selection processes. We are seeking examples of this so that we can help universities better understand how, when and why this method is used and provide appropriate support to our students who may be faced with these challenges.
The Careers Service is currently organising an AGCAS Regional Training event for staff from universities across the North East Region, which will run on Wednesday 27th June. The aim of this is to update careers professionals on the increasing use of gamification in the graduate recruitment and selection process.
If your company is using such techniques as a means of student attraction, as part of the initial application stage for graduate recruitment, or as a candidate screen technique, we'd be really keen to hear from you. There may also be an opportunity to make an input as part of the event, if you are interested in sharing your practice with staff from universities across the region. In the first instance please contact Hilary Whorrall h.whorrall@sheffield.ac.uk
16 April 2018
Take a look at our new website!
Explore how we can help you to access talent at the University; our Recruiter's Toolkit designed to help you develop opportunities; and discover employer case studies. Whether you are a new start-up looking to grow, an organisation with a business problem or an established recruiter of students and graduates, we are here to help.
26 March 2018
Part-Time Jobs & Volunteering Fair 2018 – Save the date
Save the date for our annual Part-Time Jobs & Volunteering Fair, to be held on Thursday 27th September 2018. Bookings for a stall will open in early June. This is a fabulous opportunity to meet enthusiastic students looking for work part time during their studies. Students attend the fair in their thousands in search of work both on campus at the university and off campus working locally in Sheffield and the surrounding areas.
The fair is held in the Octagon Centre usually from 10.30am - 2pm.
If you would like to book a stall or to discuss with a member of our Student Jobshop team please contact us on 0114 2220940 or email studentjobshop@sheffield.ac.uk
21 March 2018
Connect with students & graduates at The University of Sheffield's Online Fair
Meet with students and graduates from all disciplines across this five day event!
Take part in The University of Sheffield's Online Fair: Placements & Graduate Jobs from Monday 25th June until Friday 29th June to recruit into:
• graduate jobs with immediate and autumn 2018 start dates
• summer placements with immediate start dates
• year-long placements with start dates in autumn 2018
More than a static jobs board, it allows you to search participating candidates by course, department or opportunity type and engage directly in discussions, 'live' chat and/or online meetings. You can even take the recruitment process to the next level and invite applicants to a video interview.
You do not need to be online for the duration of the week! Simply use the meetings function to set times when you will be online and invite students to book an appointment or place in a group chat.
If you would like further details or to book your place you can contact us directly by email at employerevents@sheffield.ac.uk, by phone on 0114 222 0900 or simply register your interest at:
https://careerconnect.sheffield.ac.uk/leap/event.html?id=4559&service=Careers+Service
16 March 2018
Looking to hire a graduate?
RISE is a fully-funded graduate internship scheme for SMEs in the Sheffield City Region
Apply now to the RISE Internship Scheme; a city-wide partnership that connects Sheffield's network of innovative and exciting small and medium sized businesses to graduates with energy, enthusiasm and fresh ideas.
To be eligible to apply you will need to be:
a small to medium enterprise (SME) with less than 250 employees
based in the Sheffield City Region
new to graduate recruitment or looking to recruit graduates in new ways
The scheme is funded by the three core partners: the University of Sheffield, Sheffield Hallam University and Sheffield City Region. 
Find out more and apply now at http://www.welcometosheffield.co.uk/rise/contact-us
27 February 2018
National Minimum Wage Increase
The National Minimum Wage will increase from 1st April 2018.
The new rates will be:
18-20 years - £5.90 ph
21-24 years - £7.38 ph
25+ years - £7.83ph
Find out more at https://www.gov.uk/national-minimum-wage-rates.
27 February 2018
myJobshop Pilot goes live!
myJobshop has been introduced by the Careers Service to centralise the registration, recruitment and payment of Student Casual Workers and Graduate Teaching Assistants working for the University.
It is currently at the pilot stage with 20 departments, both academic and support services, using the system
We are delighted to announce that the myJobshop pilot started registering students from 30th October for students with hours being delivered under the new system from 15th January 2018; over 1000 students have registered online so far.
Operated by the Careers Service Student Jobshop team, myJobshop provides an online portal for departments to quickly request part time workers and authorise time sheets. All eligibility to work checks and new starter information is dealt with by the Jobshop on behalf of departments. myJobshop can also provide support with recruitment and selection for departments, and all hours worked by non-EEA students will be monitored to ensure compliance with Home Office regulations.
Students benefit from having a central service portal where they can search and apply for University jobs, accept offers of work and submit time sheets. myJobshop will also widen access to work opportunities at the University, and encourage development of employability.
Geraldine Booth has been appointed as the Jobshop Agency Co-ordinator and would be happy to answer any enquiries 29840/20927.
26 February 2018
Get to know our students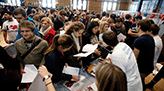 We believe that our students have the potential to do great things.
The best way to find out if they are right for your organisation, is to meet them; forthcoming events include:
Engineering SME Placement Event - 7 February 2018
We have students looking for summer and year-long placements with engineering SMEs. Meet them at this networking event.
Mock Assessment Centre - 14 February 2018
Whether you currently run assessment centres or would like to see one in action help us to facilitate this valuable student experience by facilitating on the day or providing a practice exercise.
Aerospace Engineering Showcase - 21 February 2018
Bioengineering Showcase - date on hold - please register your interest and we will keep you informed about a new date
Women in Engineering - 7 March 2018
Promote your organisation to targeted students.
Overseas Opportunities Networking Event - 27 February 2018
Promote overseas opportunities; from short vacations to gap-year activities.
Asia Careers Fair - 5-9 March 2018
Engage with an audience of international students, looking for opportunities in Asia.
Career Insights Day - 14 March 2018
If you can represent an occupation in one of our target industries then we would be interested to hear from you: digital, creative, environment & conservation, science & health, education, not-for-profit, charity & NGO, research.
Put your Arts & Humanities degree to work - 7 March 2018
A faculty wide event highlighting organisations keen to recruit arts and humanities students.
Urban Studies & Planning Networking Event - 19 March 2018
Attend our annual networking event aimed at students across the department, including Urban Design.
There are also opportunities for you to participate within the curriculum; take a look at our Engage with US programme of events, taking place from January 2018 onwards here.
If you would like further details you can contact us directly by email to employerevents@sheffield.ac.uk, by phone on 0114 222 0900 or simply register your interest on this google form.
24 January 2018
University of Sheffield top in north for graduate prospects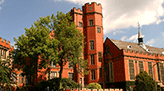 We are the top university in the north of England for producing employable graduates, according to data published by the Sunday Times.
The Times and Sunday Times Good University Guide for 2018 reveals that 82.6 per cent of graduates from our University secure graduate-level employment or further study after finishing their degree.
It also reveals that our degree programmes in six different disciplines produce some of the most employable graduates in the UK. These include degrees spanning the arts and humanities, engineering, medicine, science and social sciences.
According to the guide:
One third of Sheffield degrees are in the top 10 disciplines for graduate employability prospects in the UK, whilst two thirds are in the top 20 disciplines. Six of our degrees are in the top three disciplines for graduate employability prospects in the UK.
Professor Sir Keith Burnett, our President and Vice-Chancellor, said: "I am delighted that the University has been recognised for working with students to help them develop the skills and experience needed to build a successful and rewarding career. Companies are keen to recruit graduates from our University and this latest accolade reflects the preparation our students receive in their courses and a wide range of related activities, work experience, enterprise support and volunteering.
"We are proud that our university partnerships also enable students undertake projects with some of the world's leading companies and organisations during their time at Sheffield, linking their learning to real world application. From trainee doctors and dentists to engineers, scientists and journalists, we are deeply proud of the impact our graduates have on society as they put their knowledge to work after graduation. We are always seeking ways to help students succeed in finding great opportunities as employees or in establishing their own enterprises, from learning a new language to experience in leading projects or presenting to a group."
The Times and Sunday Times Good University Guide for 2018 also praises the University's pioneering work on degree apprenticeships, blending internationally-leading research with excellent industry-sponsored technical education.
Data on Sheffield's graduate employability prospects follows the University's position as one of the top 20 favourite recruiting grounds for The Times' 100 leading employers, according to the 2017 graduate market survey by High Fliers.
Paul Fennell, Head of Careers and Employability, said: "The University of Sheffield has partnerships with a range of employers both in the UK and all over the world who work with us to boost the employment prospects of our students.
"Leading employers recruit Sheffield students once they finish their studies but, importantly, they also work with our students during the course of their degree through a range of workshops, internships and placements to boost their employability and prepare them for the graduate jobs market. A degree from Sheffield gives students vital skills to help them build a successful and rewarding career in their chosen industries."
He added: "In engineering for example, our students can take a year in industry. Our arts and humanities students can undertake a placement in a variety of businesses both in the UK and oversees. Students from our Faculty of Medicine, Dentistry and Health can gain vital experience from placements in Sheffield's renowned teaching hospitals and health service providers. Our science students can gain experience working with some outstanding national and multinational organisations and our social sciences students can apply their learning in organisations across the UK and beyond."
Laura Blackedge, a Student Recruitment Officer at PwC, who are one of several large businesses that we work closely with, said: "PwC have had great success working with the University of Sheffield and recruiting their students into our Undergraduate and Graduate opportunities. We recruit University of Sheffield students from all degree subjects and value the range of skills and experiences that they bring to a diverse firm such as PwC."
16 January 2018
Congratulations to our new graduates
Lloyds Scholars is a widening participation programme for students from low-income families run by Lloyds Banking Group.
Each year the nine universities that take part in this programme meet in London to celebrate the individual achievements of the graduating Lloyds Scholars.
This year, seven University of Sheffield students graduated from the Lloyds Scholars Programme, a scheme which provides students with bursaries, cash prizes, and practical internships with Lloyds Banking Group.
An additional 8 awards are presented across the programme to individuals who have performed exceptionally during their time as a Lloyds Scholar. This year, University of Sheffield graduates took home two of these awards; Libby Wells for the Lloyds Internship Award, and Jasmine Nelson for the Lloyds Champion Award. These students were a shining example of the talent on show at The University of Sheffield and the hard work and determination of our Lloyds Scholars.
16 January 2018
---
Students are back, and they're looking for part time work on campus!
The Student Jobshop provides an efficient service for all departments wanting to recruit students as casual workers.
Submit and manage your vacancies online or call one of our knowledgeable and friendly members of staff who will be happy to help and advise you about our service.
We are also in the process of rolling out a new service - myJobshop - to a number of pilot University departments. myJobshop will provide a premium agency service, centralising the employment and management of Casual Student Workers (CSWs) and Graduate Teaching Assistants (GTAs). Find out more.
16 January 2018