Professor Steven P. Armes
FRS
Department of Chemistry
Firth Professor of Chemistry and Professor of Polymer and Colloid Chemistry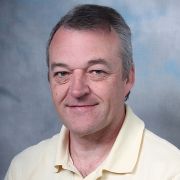 Profile

Prof. Steve Armes obtained his BSc in Chemistry from the University of Bristol in 1983 and received his PhD from the same institution in 1987. After a postdoctoral fellowship at Los Alamos National Laboratory in New Mexico, he accepted a lectureship at Sussex University in 1989 and was promoted to a personal chair in 2000. He moved to Sheffield in 2004 to become Professor of Polymer & Colloid Chemistry.

He is currently Director of the Sheffield Polymer Centre and also serves on the board of Farapack Polymers, a University spin-out company. He was elected as a Fellow of the Royal Society in 2014. Recently, he received the 2016 DSM Materials Science Award, the 2017 ECIS-Solvay Prize, the 2018 RSC Macro Group Prize for outstanding achievement and the 2018 Royal Society Armourers and Brasiers' Company Prize.

Awards

Royal Society/Wolfson Research Merit Award 2005-2009.
RSC Macro Group Medal for Polymer Science (2007).
RSC Peter Day Award for Soft Matter Research (2010).
RSC Tilden Medal (2013).
Fellow of the Royal Society (2014).
RSC Interdisciplinary Prize (2014).
RSC/SCI Thomas Graham Lecture (2014).
German Colloid Society/Springer Colloid and Polymer Science Lectureship (2015).
DSM Prize (2016).
ECIS-Solvay Prize (2017).
RSC Macro Group Medal for Outstanding Achievement (2018).
Royal Society Armourers and Brasiers' Company Prize (2018).
Qualifications
Research interests

Research Keywords

Water-soluble polymers, block copolymers, living radical polymerisation (e.g. RAFT and ATRP), polymerisation-induced self-assembly, dispersion polymerisation, micellar self-assembly, block copolymer vesicles, biocompatible polymers, colloidal nanocomposite particles, conducting polymers, stimulus-responsive microgels, polymer-based `Pickering´ emulsifiers.

Polymer Chemistry

We use living radical polymerisation techniques such as Reversible Addition-Fragmentation chain Transfer (RAFT) and Atom Transfer Radical Polymerisation (ATRP) to synthesise a wide range of controlled-structure, methacrylate-based water-soluble polymers. Block copolymers and their micellar self-assembly in aqueous solution are of particular interest: we are currently exploring the principles of polymerisation-induced self-assembly (PISA) to prepare a range of diblock copolymer-based 'nano-objects' in concentrated aqueous solution.

Depending on the precise diblock copolymer curvature, such 'nano-objects' can possess either spherical, worm-like (see TEM image opposite) or vesicular morphologies. We now are establishing fundamental design rules for the rational design of such 'nano-objects' and we seek to exploit our enhanced understanding in order to generalise this powerful PISA approach to produce robust, reproducible formulations for both polar and non-polar solvents, as well as water.

Colloid Chemistry

We prepare a broad range of microscopic conducting polymer-based particles, including conducting polymer-coated latexes, conducting polymer-silica nanocomposite particles and sterically-stabilised conducting polymer particles. Such particles are proving to be useful synthetic mimics for carbonaceous and silicate-based micro-meteorites: we collaborate informally with space scientists based in the UK, Germany and the USA to aid their interpretation of data collected during various space missions (e.g. Cassini and Stardust).

Polypyrrole particles also have potential biomedical applications as contrast agents in optical coherence tomography. We have pioneered the use of ultrafine aqueous silica sols in order to prepare a range of vinyl polymer-silica nanocomposite particles. Film-forming nanocomposite compositions can be prepared using acrylic monomers, which enable the production of tough, transparent, scratch-resistant coatings.

Other recent examples include the synthesis of novel sterically-stabilised pH-responsive microgels, surface polymerisation of stimulus-responsive polymer brushes from planar surfaces and the evaluation of various latexes, microgels and nanocomposite particles as `Pickering´ emulsifiers for the production of both oil-in-water emulsions and also covalently cross-linked colloidosomes.
Publications

Journal articles

Chapters

Conference proceedings papers
Teaching activities

Undergraduate and postgraduate taught modules

Chemistry and the World Around Us (Level 1): Paint Technology and Laundry Science; Hair Products, Sunscreens and Cosmetics; Chocolate, Ice Cream, Paper and Water.
Introducing some simple chemical principles of familiar aspects of the world around us which we often take for granted and to highlight the significance of chemistry to everyday life, society, and the future of our planet.
Fundamentals of Polymer Science (Levels 3 & 4)
This course forms an introduction to polymer science, including topics such as: nomenclature; molecular weight; solid-state properties; different types of polymerisation.
Colloid Science (Level 3)
This course is an introduction to colloid science, covering topics such as: classification of colloids; particle size analysis; adsorption of amphiphilic molecules at the air/water interface; emulsions and microemulsions.
Fundamental Polymer Chemistry (Postgraduate Level)
This course forms an introduction to polymer science for post-graduate students, including topics such as: nomenclature; molecular weight; solid-state properties; different types of polymerisation.

Laboratory Teaching: