Our substantial expertise in the synthetic chemistry, characterisation and processing of polymers and colloids is used to tackle a broad range of real-world problems.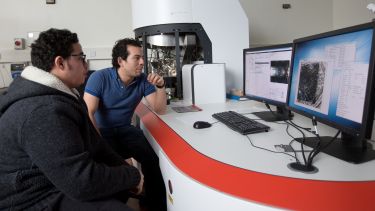 We are interested in the sustainability of polymers & colloids, whether it be biodegradable materials for niche, speciality applications or durable polymers for high volume reuse and recycling. Minimising resource use in the whole life cycle drives our research programme.
Important analytical techniques include a suite of rheometry instruments small-angle, wide angle and grazing incidence X-ray scattering (SAXS, WAXS, GISAXS), optical and atomic force microscopy (AFM), thermogravimetry, aqueous electrophoresis, gel permeation chromatography (GPC), and various particle size analysis instruments, such as analytical centrifugation, dynamic light scattering and laser diffraction.
This cluster has a strongly interdisciplinary outward-facing ethos, as evidenced by many collaborations both with other academic disciplines (e.g. physics, biology and engineering) and industrial partners, including Unilever, Lubrizol, AkzoNobel, Ashland, Scott Bader, Syngenta, DSM, BASF, SC Johnson, BTG, GEO, Dow Chemicals, P&G, Aliaxis, Kingspan, G2O and Diamond Light Source.
---
Major themes
Polymer Synthesis and Characterisation - block copolymer self-assembly, water-soluble polymers, polymer nanoparticles and latexes, polymeric biomaterials, (semi) conducting polymers, porous polymers.
Colloid & Polymer Processing – polymer and colloid crystallisation, soft matter, self-assembly processes, Pickering (nano)emulsions, polyurethane foams.
Applications of Polymers and Colloids – packaging materials, reuse and recycling, formulations in skin, hair and dental care, polymers for agriculture, therapeutics, adhesives, and energy.
---
People
For further information about Polymers at Sheffield please see the staff page of individual researchers below:
Professor Anthony J. Ryan, OBE
Professor Steven P. Armes, FRS
Members of other research clusters active in polymers:
A world top-100 university
We're a world top-100 university renowned for the excellence, impact and distinctiveness of our research-led learning and teaching.