Professor Graham J. Leggett
Department of Chemistry
Professor of Nanoscale Analytical Science
Head of Department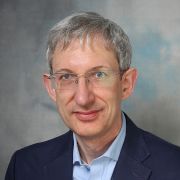 Profile

Prof. Leggett obtained a BSc in Chemistry from UMIST in 1987. His PhD from the same institution, obtained in 1990, was followed by consecutive appointments as Research Associate at Universities of Washington and Nottingham. In 1994 he was appointed as lecturer at the University of Nottingham 1994-98. He became a Lecturer at UMIST in 1998, where he was subsequently promoted to senior lecturer and reader.

In 2002 he was appointed as Professor of nanoscale analytical chemistry at the University of Sheffield. He was appointed as the Head of Department in 2018.
Research interests

Graham's research is focused on the analysis and modification of organic and biological surfaces and interfaces. Currently, three themes are of special interest:

the development of photonic techniques for molecular nanofabrication
the assembly of biological nanostructures, with particular emphasis on protein patterning and photosynthetic membrane proteins
 the nanotribology of organic and polymeric films

---

Scanning probe microscopy (SPM) has revolutionised our ability to characterise the surface morphologies of complex and difficult materials. However, much more exciting and potentially more powerful are the capabilities that SPM techniques provide for the measurement of surface properties and for the manipulation of molecular structure.

Our work focuses on the development of quantitative measurement tools for the investigation of molecular and polymeric surfaces (for example, the development of friction and chemical force microscopies for studying nanometre scale tribological phenomena).

Besides offering tools for surface characterisation, scanning probe instruments provide powerful capabilities for the modification of surface molecular structure. We have developed a new technique, scanning near-field photolithography, in which a scanning near-field optical microscope is used to fabricate structures that may be as small as 9nm, using photochemical reactions.

Our goal is to integrate top-down (lithographic) methods with bottom-up (synthetic) techniques by exploiting the versatility of photochemical methods as tools for executing very specific molecular transformations, in combination with the exquisite spatial resolution accessible in the near field. A particular emphasis of our work is the development of methods for the fabrication of biological nanostructures for use in novel highly miniaturised, high sensitivity analytical systems.
Publications

Journal articles

Chapters

Conference proceedings papers
Teaching interests

Analytical Chemistry; Surface Chemistry.
Teaching activities

Undergraduate and postgraduate taught modules

Chemistry and the World Around Us (Level 1): Fuel
The course examines how chemical principles may be used to make qualitative assessments of the efficiency of energy production, and explores the complexity of many issues facing society as it grapples with the problems of climate change and energy supply scarcity.
Solid Surfaces and Catalysis (Level 3)
This course considers the nature of gas-solid interactions and their relationship to catalytic activity.
Nanochemistry (Level 4)
This provides an overview of the role of chemistry in nanotechnology, and introduce students to major techniques for the fabrication and characterisation of nanostructured materials and devices.
Polymer Characterisation and Analysis (Postgraduate Level)
This course explores the major instrumental methods for identifying polymers and determining characteristics including: polymer molecular weight, molecular weight distribution, stereochemistry, sequence distribution in copolymers, transition temperatures, and surface features.

Support Teaching:

Level 3 Literature Review

Laboratory Teaching:

Level 1 Physical Laboratories
Level 2 Physical Laboratories
Level 3 Research Project
Level 4 Research Project