University and Siemens soft launch new Digital Innovation Zone
The Digital Innovation Zone situated in the Diamond aims to accelerate commercialisation of digital industrial innovation.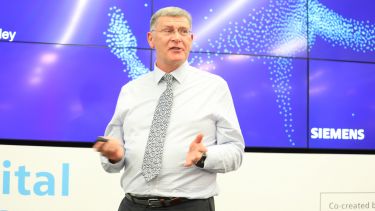 To meet the needs of an increasingly digitalised economy, the University of Sheffield and Siemens have built on their existing partnership and have developed the Digital Innovation Zone (DIZ). DIZ will accelerate digitalisation, increase digital skills, and promote innovative technology and knowledge sharing.
The DIZ, based in the Diamond building, replaces the 'MindSphere Lounge' and acts as a living lab to assist students to gain the digital skills they will need in an ever changing engineering landscape. The University and Siemens have invested in this unique facility for students, local companies, and to further develop partnership collaborations. This new space will house a number of digital demonstrators and student-accessible workstations that will showcase the potential of live stream data analytics and visualisation applications, Computer Aided Design (CAD) software, Edge Computing, Digital Simulation, and a Digital Twin of the Diamond Pilot Plant, the only one of its kind in any UK university.
Professor Paul Beasley, Head of Research & Development for Siemens UK, presented the university's relationship with Siemens and the potential for future research collaborations to the Faculty of Engineering's academics. Paul is responsible for managing and developing Siemens internal and external innovation networks in the UK. He also supports global collaborations and manages university engagement strategies.  
Dave Moss, Head of Digital Innovation at Siemens Technology, also presented. Dave's role involves working with the UK's research base on technology transfer, and is also the Siemens liaison with the University of Sheffield. 
Additionally, the team included John Dale, Industry Account Manager for Partnerships and Regional Engagement at the university and Sioned Davies, an intern at Siemens who is also a University of Sheffield Masters Engineering student.
The external launch for students and industry will take place in Autumn 2022.