Year in Industry with Siemens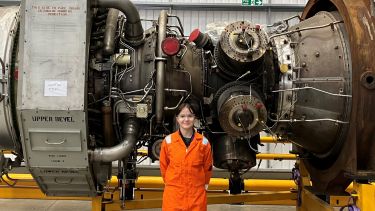 A Year in Industry gives students the opportunity to maximise their employability by spending a year in a graduate-level role in an engineering company. The Year in Industry Team supports students and employers throughout the application process and during the placement year. Each year, the Faculty of Engineering sees over 200 engineering students successfully complete their Year in Industry placement.
The Careers Service at the University of Sheffield partners with Siemens to help them recruit our top graduates. This collective recruitment strategy includes on-campus initiatives that raise the profile of Siemens and the career options available. Siemens takes the time to engage with and get to know our students, which results in an unrivalled talent stream for them.
The University of Sheffield is now one of Siemens' leading and highest suppliers of UK graduate talent as a result of the partnership and the exceptional recruitment strategy.
Tell us more about your internship with Siemens Energy.
I am currently 1 month into my yearlong placement with Siemens Energy, based at their Warwick office. The business produces and sells gas turbines for power generation and oil and gas industries. My current role is within the Technical Data Services team, where I am working as part of a specialist team to produce and update operational and maintenance manuals for customer use- as well as developing my knowledge of the gas turbines engine all associated auxiliaries.
What are you working on specifically that you're enjoying? 
I have been lucky enough to have already worked on a variant of the SGT-A65 engine at the Global Services Operations Centre (GSOC) in Lincoln. It was great to be able to apply my theoretical understanding of the engine in the flesh, whilst being able to get physically involved in maintenance exercises. I am also enjoying learning new CAD and animation software as this something I had never previously done before during my studies.
Another aspect that I am enjoying is being part of the Siemens Energy community. There are so many opportunities to get involved with-not only get to know the people you work with but also expand your network and get your name out there.
How will the internship help with your studies? 
Doing an internship has helped me in the transition of going from an engineering student to a working professional whilst still getting the relevant support I may need. It has been great to see the application of the theory I have learnt in my studies solving real world problems and getting hands on experience that I wouldn't have otherwise had the opportunity to at university.
How do you think this internship will help you looking for a job when you graduate? 
I feel that a year in industry has given me more confidence in my ability in addition to developing a versatile skill set fit for any workplace. When looking for a graduate job, I feel that I will be more open to a variety of roles as I have a chance to do such an adaptable internship.