Willenhall: 2MW Battery Energy Storage Demonstrator
The £4m Willenhall 2MW Battery Energy Storage Demonstrator facility is the largest of its type in the UK.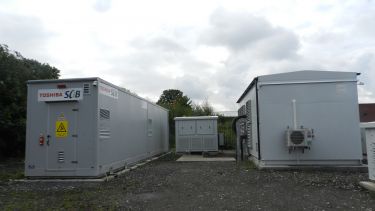 Off
This £4m facility is the largest of its type in the UK. 
Combination of a 1MWh Toshiba lithium titanate battery combined with a 2MW ABB inverter to examine the effects of centralised energy storage on the grid, allowing experiments into response times for fast frequency response and other grid support functions.
Sited on the primary 11kV grid at the Western Power Distribution electricity substation at Willenhall in the west midlands.
The Facility also has a number of bespoke dc-dc converters which can interface second life EV batteries to a 100kW ABB inverter to assess second life, or re purposed, EV battery packs in grid support applications. 
Facility allows for other inverters to be tested with the existing battery pack and grid interface, or other battery technologies to be assessed with the existing inverters as required, giving an unprecedented 2MW scale 'laboratory' controlled, fully flexible, test facility, where complete access to all functions of the operation and control can be tested without constraints of commercial issues. 
For more information watch the video below:
A global reputation
Sheffield is a research university with a global reputation for excellence. We're a member of the Russell Group: one of the 24 leading UK universities for research and teaching.