Development of generalisable methodology for n-of-1 trials delivery for very low volume treatments (DIAMOND)
A study funded by the NIHR to develop a set of principles for n-of-1 trials and to provide guidance on how these trials should be conducted.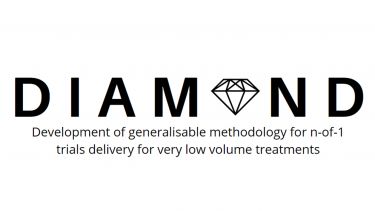 On
Patients can respond in different ways to the same treatment depending on factors such as their: age, co-morbidities, genetics and lifestyle. Therefore, when it comes to therapy, 'one size fits all' may be an inappropriate philosophy.
n-of-1 trials are a type of multi-period cross-over study in which the effects of a treatment or health technology are studied by following an individual patient over time with the treatments that are given randomised from period to period.
n-of-1 trials can be undertaken to evaluate health technologies both to treat an underlying medical condition as well as the symptoms of the condition; for example palliative pain management or antiemetic treatments. The trials can be used to assist in the personalisation of treatments for a given patient. They can also be used for different purposes such as increasing the study efficiency by replicating the treatments.
The NIHR commissioned this research to develop a methodology that underpins n-of-1 trials in order to ensure rigour and consistency in their use and to enable n-of-1 trials to be employed in as many rare disease areas and low-volume interventions/treatments as possible.
---
The aim of this research project was to develop a set of principles and a methodology template for n-of-1 trials and to provide guidance on how these trials should be conducted. Specific objectives were to 
review existing literature on n-of-1 trials

conduct stakeholder focus groups to gain an understanding of the types of question(s) that can be addressed with n-of-1 trials, the treatments that can be investigated and possible trial outcomes

generate a guidance document that makes clear when it is appropriate to undertake n-of-1 trials and what questions can be addressed

provide two training courses (one for statisticians, one for non-statisticians) to disseminate findings

produce a user-friendly guide to enable an analysis of n-of-1 trials in statistical packages SAS and R
---
A full report of the DIAMOND project, including a list of key points to consider when designing and undertaking n-of-1 trials, can be found here.
Resources to assist researchers in analysing data from n-of-1 trials can be downloaded by following the link below:
---
This project has been funded by NIHR CTU Support Funding.
---
Please contact Liv Hawksworth (Research Assistant at Sheffield Clinical Trials Research Unit) at o.hawksworth@sheffield.ac.uk
Flagship institutes
The University's four flagship institutes bring together our key strengths to tackle global issues, turning interdisciplinary and translational research into real-world solutions.