Anglo-Netherlands Society Awards 2021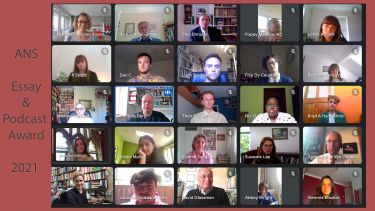 What started 10 years ago as an experiment has become a much appreciated tradition: the Anglo-Netherlands Essay Prize for students of Dutch Studies at the University of Sheffield. The prize was proposed in 2012 to encourage  students to pursue topics in Dutch Studies or Anglo-Dutch relations. The prize is open to Second Year students of Dutch at Sheffield. A panel of independent readers put together by the ANS decides which individual essay and which group podcast walks away with the two £150 awards.
This year HE the Ambassador of the Netherlands, Karel van Oosterom and the ANS President Lord Taylor of Holbeach joined the online ceremony.  Ambassador Van Oosterom stressed how Sheffield students are ambassadors for Dutch language and culture too and he expressed both his appreciation and his admiration for the work they had undertaken in the past academic year.
Essay Award
Mr Paul Dimond, who coordinates the prizes on behalf of the ANS, shared that the ANS judges were looking for essays that were both informative and thought-provoking. He commended the general standard of the essays and noted the creative and analytic approach towards current rather than 'outdated or hackneyed' topics. This year's entries were based on the Semester One module (Post)Colonial and Multicultural Low Countries and the essay topics varied from literary analysis, a comparison of UK and NL integration policies to discussion of symbols of the colonial heritage in the public space. 
The essay that managed to engage the most according to the ANS was Rebecca Nelsey's, 'Zwarte Piet: Racism or an Innocent Tradition?' The essay will be published in the ANS newsletter.
We thought that the standard and style of the best submissions in analysis and judgement were ahead of what we might have expected from second year students and warmly congratulate the Faculty on that. 

Paul Dimond

Chair Anglo-Netherlands Essay and Podcast Prize Jury
Podcast Award
The ANS judges described the Sheffield Podcasts as "a medium of growing academic significance […] a worthy and indeed fun alternative to the classic essay." We couldn't agree more! Based on the Semester Two module offered by Filip De Ceuster, Towards a New Pastoral? 'Urban Idylls' in Contemporary Dutch & Flemish Children's Literature, the podcasts explore whether romantic views on nature – as an unspoilt and natural environment for children – still prevail in contemporary children's literature.
The ANS decided to award the prize to the podcast based on Michael De Cock's novel Rosie and Moussa, created by Daniel Corcoran, Catherine Newell and Liam Stoddard. You can listen to the winning podcast here.
Congratulations to all participants and the winners. And with our sincerest gratitude for the continued support of the Anglo-Netherlands Society. 
A global reputation
Sheffield is a research university with a global reputation for excellence. We're a member of the Russell Group: one of the 24 leading UK universities for research and teaching.