Our First Year Modules 2021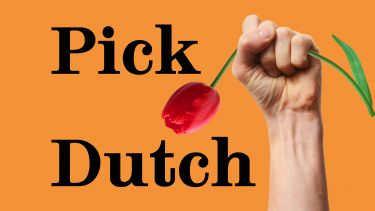 Dutch language
Dutch is the language spoken by 24 million people in three countries on two continents: the Netherlands and Belgium in Europe and in Suriname in South America. Dutch is an accessible language: with a bit of effort and dedication, you will reach a good level in this yearlong course (CEFL Level A2). Anybody with some experience in a modern language is welcome.
Why pick Dutch?
Because it is useful. Dutch is consistently the 5th most requested language by UK employers. 
Because it is fun. Last year's students gave Beginners' Dutch the top score in the overall student satisfaction.
Because the history, culture and society of the Netherlands and Flanders is an exciting story of revolt, (religious) wars, great art and a striving for individual freedoms. 
Because it gives you flexibility. After First Year you can decide to make Dutch part of your BA Modern Languages and Cultures or in your Dual Progamme.
Course structure 
Our language programme is an intensive course taught in small groups. In addition there is our Dutch Studies module: Born out of Revolt and Consensus. The making of contemporary Netherlands and Belgium. The full course will take up one third of your First Year programme with 5 contact hours per week:  
4 hours of Dutch language (MLT01032/01033)
1 hour of Born out of Revolt and Consensus (MDL111). 
You will collect 40 credits in total over the full year.
Animated Grammar
We have a strong reputation for offering excellent teaching, both in our small-group tutorials, and online. We are currenlty working on expanding our pool of digital materials.
After your First Year 
You can make Dutch part of your degree, for example in a Dual Honours degree or as part of a BA Modern Languages. We will discuss your options in spring 2021.
Get in touch: Henriette Louwerse (h.louwerse@sheffield.ac.uk)
A world-class university – a unique student experience
Sheffield is a research university with a global reputation for excellence. We're a member of the Russell Group: one of the 24 leading UK universities for research and teaching.