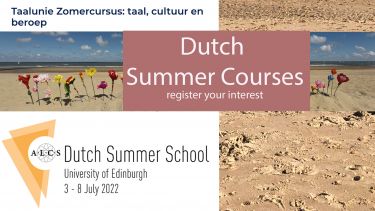 A summer course is a great opportunity to give your language learning a boost.
The Taalunie Zomercursus in Gent (2 weeks) is now full but you can express your interest for the Association for Low Countries Studies first Summer School at the University of Edinburgh (also sponsored by the Taalunie) until 31 March. 
It has been a very special and memorable two weeks of language learning and I would really recommend this course to anyone learning Dutch.

Georgie von Schweinitz

Participant Taalunie Zomercursus 2020
| Belgium: Gent | UK: Edinburgh  |
| --- | --- |
| 31 July - 12 Augustus 2022 | 3 - 8 July 2022 |
| For current Intermediate students of Dutch and those on their Year Abroad (B1+) | From students who have studied a year of Dutch from Beginners level and above (A2+ to B2+) |
| There will be a €220 fee + travel | Travel to Edinburgh and a small fee of £120 |
| There is a selection process. We have 4 places available for Sheffield students | There will be a short selection process and we have about 10-12 places reserved.  |
| Deadline for expressing your interest: 20 February 2022 NOW CLOSED | Deadline for expressing your interest: 31 March 2022 |
Explore the University
Discover why Sheffield is the right choice for you at one of our open days or events.