Expert advice: A visit from writer and broadcaster Laurence Scott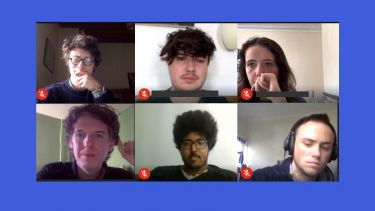 On 27 April 2021 Dutch at Sheffield had the pleasure of welcoming BBC Radio 3 presenter and author Laurence Scott in our virtual classroom. In a few weeks time Year 2 students of Dutch on the culture project Towards a New Pastoral will be presenting their own research in the form of a podcast and Scott was at hand for some specialist advice, useful tips and an exclusive insight into the world of radio broadcasting. 
A good radio programme creates a sonic room for someone to walk into: it should be tactile, physical, sensuous.

Laurence Scott

Author and Broadcaster
"Radio is a visual medium", Scott said. "That sounds perhaps a little bit odd, but a good radio programme creates a sonic room for someone to walk into: it should be tactile, physical, sensuous". Prompted by students' questions, Scott shared his views on the use of music for texture, on ways to find your own voice, on how to sound natural, and on 'hospitality': "you have to be your listener's friend. The listener needs to feel safe in your hands". 
Scott's inspiring visit provided our student podcast teams with the last bits of specialist 'equipment' to start scripting, recording and editing their episodes. And their work will reach audiences beyond our Sheffield community: the judges of the Anglo-Netherlands Society (ANS) will cast a critical ear and award a prize for the best podcast by second year students in Dutch Studies. Look out for our prize ceremony in June. 
Laurence Scott is a 2011 BBC New Generation Thinker and a presenter of Free Thinking and documentaries on BBC Radio 3. He is the author of Picnic, Comma, Lightning: In Search of a New Reality and The Four-Dimensional Human: Ways of Being in the Digital World. Scott writes for The Guardian, The Financial Times, The New Yorker, The New York Times and The New Statesman. In November 2019, he presented a Free Thinking episode on Modern Dutch Writing, featuring Toon Tellegen, Rodaan Al Galidi, Herman Koch, Eva Meijer, Onno Blom and our Sheffield colleague Filip De Ceuster.
The Towards a New Pastoral  project is part of the Dutch and Flemish culture module Remembering the Past, Imagining the Future offered for students of Dutch in their second year of study. The project is developed and taught by Filip De Ceuster. 
A global reputation
Sheffield is a research university with a global reputation for excellence. We're a member of the Russell Group: one of the 24 leading UK universities for research and teaching.