Filip De Ceuster: Expert on Maurice Gilliams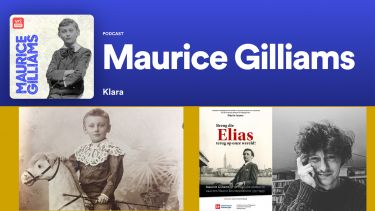 On 18 October 1982, Flanders lost one of its most prominent writers, Maurice Gilliams. Gilliams – often called the 'Flemish Proust' – was born in Antwerp in 1900 and is widely seen as the pioneer of Flemish modernism. The poet Gilliams penned a small collection of poems, but he is best known for his 1936 novel Elias of het gevecht met de nachtegalen. The 40th anniversary of his passing triggered a series of events and publications in the Low Countries.
As an international expert on Maurice Gilliams Filip De Ceuster was involved with a variety of projects. He contributed to a podcast series produced by Gudrun De Geyter and supported by the Flanders Foundation for Literature and the Maurice Williams Foundation Vita Brevis. All episodes were broadcast on the Belgian national Radio Klara – the Belgian equivalent of BBC Radio 3. The programme is available  on most media platforms, including Spotify. 
De Ceuster was also commissioned by the Dutch-Flemish Cultural Platform De Lage Landen to write an in-depth review of the long-awaited biography of Gilliams. Annette Portegies wrote the excellent Weerspiegeld in een waterglas and De Ceuster's analysis can be read here (in Dutch).
De Ceuster's monograph Breng die Elias terug op onze wereld is scheduled to appear in early 2024.  
Flagship institutes
The University's four flagship institutes bring together our key strengths to tackle global issues, turning interdisciplinary and translational research into real-world solutions.