Guest Author 2022: Rashif El Kaoui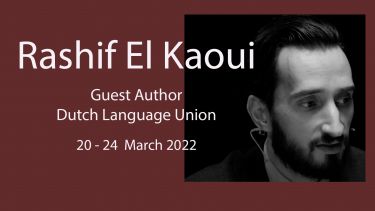 Each year Dutch at Sheffield hosts the Dutch Literary Translation Project. Together with students and staff from Dutch Studies at UCL, we tackle an extract from a Dutch, Flemish or Surinamese literary text and translate it into English. We don't go at it alone: we are joined by the  authors themselves and a professional translator. In February and March 2022, we will welcome the writer, actor and rap artist Rashif El Kaoui and translator Jonathan Reeder.
De Bastaard
For the play The Bastard,  the character Rashif El Kaoui is struggling with his Flemish-Moroccan identity. Together with his friend, the Turkish-Dutch photographer Ahmet Polat, El Kaoui travels to a small village in the Atlas Mountains to meet the family of his father. This quest to find his roots forms the basis of the theatre production of which El Kaoui reluctantly admits: 'I feel guilty about making yet more theatre about a problematic father figure'. 
Yet, The Bastard is much more than an identity journey; it is a commentary on being caught in the middle: 'I am caught in the gaze of the other [...] For the Belgians I am too dark, for the Moroccans I am too white'. 
Wij maken een reis au bout de la nuit.  Helter Skelter tegemoet.  The wormwood star staat hoog aan de heldere hemel. Wij zijn mixed-up, but don't get it twisted.

Rashif EL Kaoui

From: De bastaard
In addition to working with our students, Rashif El Kaoui will talk about and read from this work on Wednesday 23 March. Time and place tbc. 
Translation, and in particular creative and literary translation, forms an important part of our Dutch programme. We would like to thank the Taalunie and the Dutch Foundation for Literature for their continued support.  
Events at the University
Browse upcoming public lectures, exhibitions, family events, concerts, shows and festivals across the University.