Megan Strutt Guest Blogger for British Library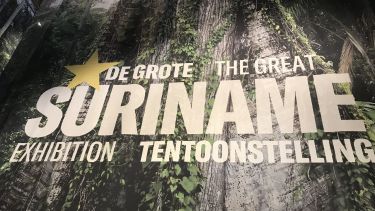 On Thursday 20 February 2020, 125 students from various departments came together in Sheffield's Octagon Centre to present the results of their Undergraduate Research Experience. The SURE exhibition offers an insight into the rich research environment at Sheffield, which includes our undergraduate students too. Megan Strutt is one of the two SLC SURE researchers with her project SURINAME. (RE)COLLECTIONS, in collaboration with the British Library.
Focus on Suriname
Last summer, Megan headed to London to dive into the Dutch-Surinamese archives of the British Library, an extensive collection of material related to the former Dutch Colony that, until now, had remained underexposed. Under the supervision of Sheffield tutors Filip De Ceuster and Henriette Louwerse and tapping into the expertise of Marja Kingma, curator of the Germanic Collections at the British Library,  Megan explored and described a selection of remarkable collection items which she linked to Onder de Paramariboom, the semi-autobiographical novel of Dutch-Surinamese author Johan Fretz.
As part of her research project, Megan was invited to write two guest entries for the British Library's European Studies Blog. Her latest one can be found here.
I really loved sharing my findings in an accessible format such a blog to allow a larger, non-academic audience to engage with this fascinating project.

Megan Strutt

SURE researcher 2019
This SURE project is part of a developing collaboration between Dutch at Sheffield and the British Library. Megan is currently on her Year Abroad in Den Bosch (the Netherlands) and will spend her second semester in Hamburg (Germany).
Explore the University
Discover what sets Sheffield apart at our next on-campus open day.