Music, theatre and bikes!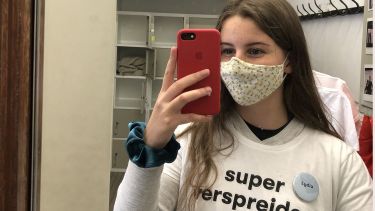 After having spent the past six months living in my home village, it is safe to say that Antwerp was a shock to the system. I had no idea what to expect when I first arrived; except, of course, a 7-day quarantine to begin with. Once the week of me waiting eagerly to escape the confinements of my new room had passed, I was finally free to explore my new Flemish hometown: Antwerpen!
I am Lydia Cope, I study Dutch and German and I am currently on my Year Abroad in Belgium. I am fortunate enough to be doing a work placement at a classical concert hall (AMUZ) and at an acclaimed theatre (hetpaleis) in the centre of Antwerp. AMUZ is located in an extraordinary 17th century church; a unique baroque setting, overflowing with history. It is a truly mesmerising place to work and although I have a very busy schedule, I have even been lucky enough to attend the concerts as well!
I help with translation, administration and greeting/guiding the audience. The best thing is: I find myself having no option but to speak Dutch! The same is true for my work at hetpaleis; whilst showing audience members to their row, I learnt very quickly that I did not know the alphabet as well as I thought! This was soon rectified; my real concern about coming to Belgium was that I don't speak French. Whilst I was slightly alarmed by the first "ça va?" (the typical way in which Antwerpians greet each other) this is as much French as I needed to know (to my relief!).
When it comes to culture, Antwerp is a treasure trove! From warm waffles at the market to breath-taking historical landmarks: this old city by the river Schelde is brimming with things to explore.

Lydia Cope

Reporting from Antwerp on her Third Year Abroad
My personal favourite place so far is the house and atelier of Pieter Paul Rubens. It was like stepping back in time and forgetting about all the madness in the outside world. And what better way to get there than by bike?! Another cultural phenomenon which I have fallen in love with (once I managed to remain on the right side of the road and got used to cobbled streets). I think it is clear that my first few weeks in Antwerp really have been wonderful. The Flemish city has lived up to and beyond my expectations!
If you're thinking of going to Antwerp yourself on your Year Abroad, feel free to get in touch!
Explore the University
Discover why Sheffield is the right choice for you at one of our open days or events.