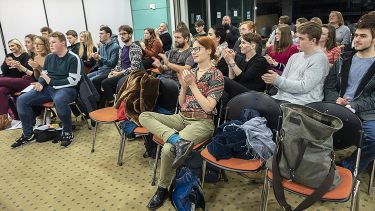 Sheffield students of Dutch have been examining these difficult and relevant questions as part of the Dutch Project Module 2018. From 19-23 November 2018 they worked with Johan Fretz, a Dutch author, stand up comedian and musician. Fretz wrote his second novel Onder de paramariboom earlier this year and the novel was accompanied by a successful theatre production.
I found the translation element of the module really really exciting and rewarding [...] I felt as if we were really doing something creative and important and that through doing this translation we were actually contributing to a wider discussion.

Tom Macaulay

BA Modern Languages
In the novel Fretz explores his personal past – he travels to Surinam, the birth country of his mother. He reflects on his his own mixed-race background and he relates how his attitude towards his own personal history has changed in recent years along with the national narrative of the Netherlands. As the Gentle Radical, he shares his highly personal story but also wishes to talk about race, politics, inclusion and exclusion.
Johan Fretz worked with Sheffield students and with dr. Jenny Watson to translate the first two chapters of his novel. The presentation took place on 21 November 2018.
I can safely say that over the past few weeks I've become better at reading a text critically and researching around a topic – we were lucky that whilst we were given some texts to start off our thinking process, we didn't have so much required reading that we couldn't go off and do our own research, which I really liked.

Megan Strutt

BA German with Dutch
This project and public presentation was kindly sponsored by the Embassy of the Kingdom of the Netherlands. 
Explore the University
Discover why Sheffield is the right choice for you at one of our open days or events.