Welcome from the Dutch Society 2022-23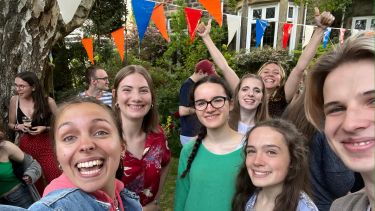 Your president Ethan (he/him) and vice president Hannah (she/her) are here to present to you the brand new exciting team for the Nederlandse Vereniging (NV). Our Dutch Society is for anybody with an interest in Dutch language or in Dutch and Flemish culture. 
How did we end up here?
Ethan made most of his friends through the Dutch Society.  He was initially drawn to Dutch after an Open Day and has since enjoyed all the events the NV organised in his first year. He also likes how approachable the Dutch tutors are, so he can't help but want to be a part of it!  Hannah has always had a passion for Dutch culture and language, so finding a society in Sheffield that encompassed everything that is fun and interesting to do with the Netherlands was a dream come true!
Here's the rest of the committee!
First, Esther (she/her), our secretary will be making sure the whole operation runs successfully and take minutes to keep everything in order.  Secondly, we have Jack (he/him), our treasurer, who will be making sure everyone is paying their bills and we are all financially looked after. 
Next up we have Sophie (she/her), who is our inclusions officer, she will be making sure everyone can be and feels included whether that's disability access to all events or even something as simple as vegetarian options for food. Following on from that we have our social secretary, Emma (she/her). Now Emma is the only actual Dutch member of the committee so she will be giving us all the best knowledge for national events or holidays that we can't wait to celebrate with you all. 
Then we have Holly (she/her), our education's officer. She will be focusing more on the academic side of the society with things like word of the week on our instagram which you should totally check out! 
We are also lucky enough to have a fourth year officer, Catherine (she/her). She will be overseeing the committee and giving advice and support based on her experience of her course so far as a fourth year. Finally, we have Elsie (she/her), she will be our publicity officer which means she will be involved with anything relating to social media or spreading the news about upcoming events. 
Our goals and ambitions for 2022/23 with NV are: 
Spread our love for Dutch with as many newcomers as possible with lots of fun and educational events throughout the year. 
To give a home to those who want to learn Dutch and its fascinating culture.
Try to make Dutch not just a course taken at University but an enjoyable and welcoming environment for all. 
Collaborate with other societies (other languages) to have the best university experience ever!
Join us! Follow us on Facebook and feel free to contact us through our social media accounts, the Sheffield Student Union or drop us an email (nederlands@sheffield.ac.uk). We can't wait to meet you!
Come and find us at the Activities Fair on 22 September, 11am - 4pm.
A world-class university – a unique student experience
Sheffield is a research university with a global reputation for excellence. We're a member of the Russell Group: one of the 24 leading UK universities for research and teaching.