The three-year around the toilet arts-based research project, funded by the Arts and Humanities Research Council, set out to find what makes a public toilet a safe and accessible space.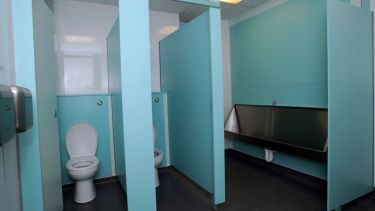 Researchers spoke with a wide range of people including those with health conditions, disabled people, parents, and queer and trans people, who are often left restricted, unsupported and discriminated against by inadequate toilets.
They found that poor facilities often impacted directly on their lives, including:
preventing them from leaving the house
avoiding food and drink when out
refraining from taking day trips or holidays
feeling socially unrecognised and unwelcome
Researchers also found that toilet provision is rarely prioritised in local authority budgets, and often given to the least experienced architect when it comes to the design process.
The project came in the wake of austerity measures that led to public toilets being closed across the country.
In some locations, the closure of public toilets meant the only suitable option is toilets located in pubs, railway stations, shopping centres that require a financial purchase in exchange for use.
Many people are forced to choose places to visit based on the accessibility of their toilets, and in doing so highlight the inaccessibility of the majority of these venues.
Dr Kirsty Liddiard, Research Fellow in the School of Education and co-investigator on the project, said: "Around the Toilet is an important project that has highlighted the public toilet as a space of exclusion for many people.
"Not only have many public toilet facilities around the country been closed due to significant budget cuts to local authorities - meaning many more of us use the loo in privatised spaces such as cafes and restaurants, but what remains is often inadequate and inaccessible for many.
"This is particularly acute for disabled and/or trans people, who routinely struggle to access the toilet as a safe, usable and comfortable space. Our findings highlight that there is a real need for far more well-maintained, accessible, and all-gender toilet provision (often known as 'gender-neutral' toilets).
---
Through listening to people's experiences, we learned that not being able to use toilets in public spaces can be seriously impactful within people's everyday lives and their ability to rightfully access public space in their communities.

Dr Kirsty Liddiard

Research Fellow in the School of Education
---
Dr Jen Slater, Reader in Disability Studies and Education at Sheffield Hallam University and lead investigator, added: "Unfortunately, we live in a society where current toilet provisions prioritise some peoples' needs at the expense of others.
"The stories we heard show the daily reality for many people whose lives are restricted and disrupted because they are unable to access appropriate toilets away from home. The government and local councils have a responsibility to ensure safe access to public toilets for everyone."
Flagship institutes
The University's four flagship institutes bring together our key strengths to tackle global issues, turning interdisciplinary and translational research into real-world solutions.