The Department of Geography is passionate about teaching and research. As part of this we aim to inspire the next generation of geographers through our work with schools and colleges.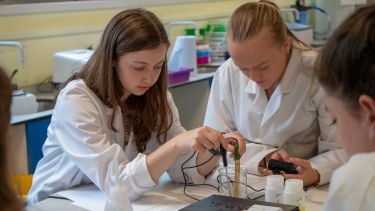 We offer a range of opportunities to take advantage of, including visits to your school by student ambassadors or academics. Our student ambassadors can host presentation and Q & A sessions for you and your class talking about what it is like to study geography, what it is like to be a student, and the diverse career opportunities open to geography students. Our academics are leading experts in many of the fields covered in core GCSE and A Level subjects and can come and give engaging talks on the following subjects:
Physical Geography
Glacial systems and landscape

Hazards

Water and carbon cycles

Drylands
Human Geography
Global systems and global governance

Contemporary urban environments

Changing places

Future of food
If you are interested in getting in touch to discuss any of these opportunities, please contact geography@sheffield.ac.uk or phone +44 114 222 7900.
Careers talks and visiting your school
We are happy to host a stall at your school or college's career or HE event where we can talk with students about our courses and careers in geography. Find out more about what we can offer on our schools and colleges page.
Headstart Summer School
The Department of Geography will host the third Headstart Summer School in the summer of 2020 for students interested in Environmental Science and Geography. Working under the umbrella of EDT, who have over 30 years of experience in connecting young people with STEM subjects and industry, academics from the department put together a programme of activities providing students with experience of university life.
Year 12 students from all over the UK have the opportunity to attend lectures, laboratory sessions and workshops across the University. They will stay in the University's state-of-the-art student accommodation, giving them an authentic student experience.
The students will conduct field work in partnership with the Peak District National Park, experiencing the beautiful surroundings of Sheffield. The programme will also include talks with local businesses about avoiding food waste and a Grapevine session with alumni from the University, showcasing the different career options for Environmental Scientists and Geography.
Find out what the students got up to at our Summer School in the video below.
Find out more about the 2020 Summer School on the EDT website.
Teaching resources 
Glaciology in Britain: The BRITICE map
The BRITICE map is the most detailed ever compilation of the geomorphology of the last British-Irish Ice sheet. We have developed a high quality A0 size map to display in your classroom. Request your free copy by emailing geography@sheffield.ac.uk.
The map is also available online as an interactive resource. Find out more about where you and your students live by using our interactive GIS database and download custom maps.
Royal Geographical Society podcasts
The Department of Geography has produced a set of podcasts for the Royal Geographical Society. Download the resources for 'Linking the water and carbon cycles' below, or explore the full range of learning and teaching resources provided here.
Linking the Water and Carbon Cycles
Hazards and Volcanic Gas Emissions
Time for Geography
The Department of Geography has an active collaboration with Time for Geography, who create videos for school students on all things geography.
Study with us
Join an international community of geographers and help tackle the biggest issues in our changing world.
A world top-100 university
We're a world top-100 university renowned for the excellence, impact and distinctiveness of our research-led learning and teaching.