In an era shaped by growing concern about climate change and new geopolitical challenges, our students are engaged with the urgent challenges of social and environmental justice, from the local to the global scale. This ethos goes beyond their learning in the classroom.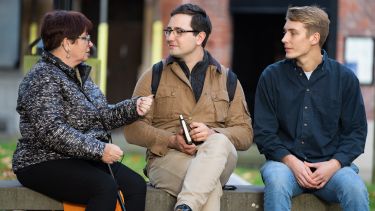 Students in the Department of Geography
Student voices are at the heart of the department's learning environment. Students' ideas, perspectives and ambition are vital to this and students work with staff to shape the educational experience for all, through:
Student consultation in module and programme development
Student representatives on departmental committees
GeogSoc - the department's student society - runs a programme of seminars with guest speakers from academia, policy and industry to enhance student learning
Students and the University
Our students are actively engaged with the wider university, influencing decision-making and organisational behaviour through campaigns and initiatives as well as the Students' Union.
Students are actively involved alongside staff in the department's Green Impact activities, which seek to improve sustainability and wellbeing within the department.
Our students' projects and dissertations are key drivers for the sustainability agenda across the University, providing evidence for change and tools to promote more sustainable living.
Students from the Department of Geography have gone on to influence Students' Union policy, for instance by becoming the SU's Environmental Officer in 2018 and President in 2019.
Students in Sheffield
Sheffield students are engaged with civic communities of the Sheffield Region. Our students make an impact outside the University through a range of fundraising and volunteering activities:
GeogSoc supports two local charities each year through a regular programme of fundraising events
EnviroSoc - our Environmental Science student society - arrange film screenings and promote conservation volunteering
Our students work with local school and college students to offer mentoring and further study sessions  
GeogSoc administers a food collection on campus, which is redistributed to a local food bank
Our students regularly take on summer placements with local charities
Global citizens
The Department of Geography is a truly international department, with students and staff from all over the world, as well as partnerships with academic organisations and NGOs around the world. Our students are committed global citizens and take part in a range of activities including:
Sheffield Undergraduate Research Experience (SURE) - our staff and students have high success rates in securing funding for international research projects through this University scheme. Recent field sites have included the Swiss Alps, Nicaragua and Vanuatu in the Pacific
International Research - Departmental scholarships support ambitious projects. Recently, a group of undergraduates secured a prestigious Royal Geographical Society grant for their expedition to conduct research in Kyrgyzstan
Study with us
Join an international community of geographers and help tackle the biggest issues in our changing world.
A world-class university – a unique student experience
Sheffield is a research university with a global reputation for excellence. We're a member of the Russell Group: one of the 24 leading UK universities for research and teaching.