The Department of Geography scores highly in the latest National Student Survey (NSS)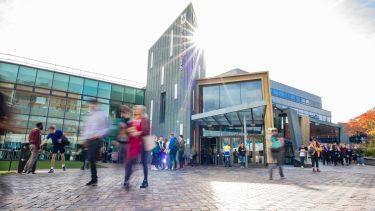 The department as a whole scored 90% for learning resources, while overall satisfaction among University of Sheffield students is nearly three per cent above the national sector-wide average, placing the University fifth overall in the Russell Group, the association of leading UK research-intensive universities.
The department's Director of Learning and Teaching, Dr Dan Hammett, said: "I'm delighted with our NSS scores, which reflect not only our staff's commitment to delivering excellence in teaching and learning but that our students recognise the quality of education they receive. We continue to provide a world-class education for our students, and this is reflected in how well our students have rated our teaching and their degree experience. 
"In particular, I'm absolutely delighted that for BA Geography we remain ranked number one amongst the Russell Group for assessment and feedback, and are now number one ranked for student voice as well."
The importance of student voice was also demonstrated by the performance of the University's award-winning Students' Union. According to the survey the Students' Union received satisfaction rates 18 per cent above the sector average for effectively representing students' academic interests, placing it first in the Russell Group and third among Students' Unions nationally. This follows last week's accolade in which the Students' Union was awarded the Whatuni Student Choice Award for Best Students' Union for the fourth consecutive year.
Find out more about the University's overall NSS performance.
Study with us
Join an international community of geographers and help tackle the biggest issues in our changing world.
A world-class university – a unique student experience
Sheffield is a research university with a global reputation for excellence. We're a member of the Russell Group: one of the 24 leading UK universities for research and teaching.