Polar and Alpine Change students win £500 grant for Greenland trip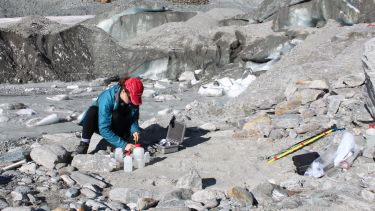 Students from the MSc(Res) Polar and Alpine Change (PAC) have won a £500 grant from the Alumni Foundation to help fund a trip to the Greenland ice sheet. While this trip has been to the Norwegian archipelago of Svalbard for the past ten years, this group of PAC students were determined to make the trip to Western Greenland in what will be the first group trip of the university's taught students to the region.
The expedition, which will take place between 19th August and 2nd September, will see students examine ice sheet dynamics and velocity to see how quickly the ice is moving. The students are keen to ensure that this expedition will be more independent and research-led than previous trips, and the group will be wild camping by the ice sheet for much of their trip.
The Alumni Foundation grant will be used to help purchase a dome tent, which will be used for fieldwork, from analysing samples from the ice sheet to preparing reports and presentations of the group's research. Once the expedition is complete, the tent will be passed onto future PAC and Geography students to be used in student fieldwork for years to come.
This is the second expedition to be announced by Department of Geography students this year, after two second-year BSc Geography students recently won funding from the Royal Geographical Society and the Mount Everest Foundation to head out to the Ala Archa National Park in Kyrgyzstan, undertaking important research through one of the Earth's lesser-explored corners. To discover more about the diverse opportunities the Department of Geography offers for all levels of student, please visit our course pages.
Study with us
Join an international community of geographers and help tackle the biggest issues in our changing world.
Find a PhD
Search for PhD opportunities at Sheffield and be part of our world-leading research.