Events and other activities
Breathe/Respirar seeks to generate and exchange knowledge, and to build networks locally, regionally and internationally. The partners have organised seminars, workshops, conferences, and opportunities for student involvement as part of their studies at the University of Buenos Aires.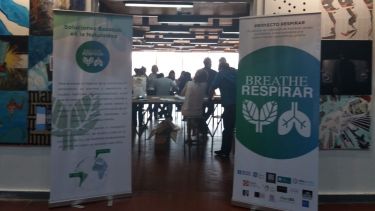 Off
Current events
Ateneo Breathe/Respirar (launched in July 2020)
An ateneo is an open forum where learning is shared. The Breathe/Respirar Ateneo offers a series of interactive online seminars and discussions to help academics, students and other interested people to strengthen their interdisciplinary approaches and build a common knowledge base. If you are interested in participating, please contact Miguel Kanai miguel.kanai@sheffield.ac.uk or Verónica Fabio veronica.fabio@fadu.uba.ar.
Past events
Building a Latin American Network of Green Infrastructure for Sustainable Urbanisation/Construyendo una red latinoamericana de infraestructura verde para la urbanización sostenible, Buenos Aires, 13-14 May 2019 
Knowledge exchange activities in Buenos Aires with the participation of local and Latin American (Bolivia, Brazil, Ecuador and Paraguay) experts from government, professional associations and the NGO sector.    
Background: Securing a sustainable urbanisation future requires innovative ways to build cost-effective infrastructure in urban, as well as rapidly growing peri-urban locations of the global South, where social and environmental conditions are the most vulnerable. More than a year of collaboration between academics from University of Buenos Aires and University of Sheffield along with government and NG0 partners in Argentina yielded co-produced demonstration projects beginning to provide evidence of how green infrastructure could contribute to addressing questions of pollution abatement; increased environmental resiliency; production of co-benefits improving public health and enhancing wellbeing, and grassroots generation of employment and economic opportunities. These projects included: (a) green barriers focused on locally remediating air pollution in sensitive sites such as schoolyards; (b) sustainable urban drainage systems to reduce flooding hazards in and around the city; and (c) artificial wetlands with built-in phytoremediation capacities to reduce water and soil pollution.
Description: Two-day event with the participation of five academics, fifteen professionals, and with some activities open to the public.
Site visits within Metropolitan Buenos Aires (cities of Buenos Aires and San Martin and the National Institute of Agricultural Technology (INTA) experimental station)  
Public talks at the University of Buenos Aires, Faculty of Architecture, Design and Urbanism (FADU) focused on comparative experiences, innovations and best practices with green infrastructure, ecosystem restoration, nature-based solutions and re-greening throughout Latin America.
Final event consisting of a closed-door workshop to reflect on what was learned during the two days and establish a cooperation agenda among participants.
Funded by Grantham Opportunities, University of Sheffield and building on work supported by the Grantham Centre for Sustainable Futures, the British Council and Research England (QR GCRF funds).
Sustainable Green Fences for the remediation of air pollution and social inclusion around disadvantaged schools / Cercos verdes sostenibles en contra de la contaminación del aire y a favor de la inclusión social en las escuelas  Buenos Aires, 12-16 November 2018
The British Council Higher Education Links programme funded a week of intensive outreach, engagement and capacity building activities. This included an outward-facing reception for engaging stakeholders at the historic Central Society of Architects' premises, a symposium, intensive workshops, visits to schools and meetings with city and government representatives. Over 100 people participated. They explored green infrastructure and nature-based solutions, focusing particularly on green fences. Topics discussed included air quality, phytoremediation and green fence design; evaluation of environmental, social and health and wellbeing impacts; and approaches to construction of green fences with local social enterprises that use sustainable and recycled materials.
The event's main objectives were to:
Scope out and plan (co-produce) the Green Fences Project with stakeholders
Provide opportunities for student engagement and learning in an applied project
Build capacity and research networks linking Sheffield and Buenos Aires across academia, the public sector and third sectors, and lay the foundation for future collaborative applications for research funding.
The workshop allowed Argentine and British partners to present their research findings to one another and to a wider audience, with ample time over four days for discussion, feedback and brainstorming about next steps. A network centred around the construction and management of green fences and other forms of green infrastructure was created through this workshop. The workshop also contributed to raising awareness about the problem of air pollution in Buenos Aires and its implications for public health and child development. Green solutions to abate air pollution were featured and the use of green fences promoted, particularly in schoolyards.
Applied Learning with University of Buenos Aires (UBA) students
Bachelor of Landscape Planning and Design students enrolled in the Vegetation 2 module were involved in research, analysis, design and implementation of the first green barrier/living fence and schoolyard in Buenos Aires. (October 2019)
Investigation, analysis, design of schoolyard during work placements
Final year UBA students from different design disciplines undertake internships/work placements as part of their studies. 15 of them engaged in the project of analysing the context and site and then developing a schoolyard design for a second school in Buenos Aires. They focused on creating a high quality playground for children within the living fence and schoolyard model. They also attended to functional aspects such as rainwater capture to water the vegetation, and technical specifications for play equipment.  (July-November 2019)
Design competition for nature-based solutions communications tool
123 UBA students from the various design disciplines were organised into multidisciplinary groups and tasked with developing communications tools concerning the benefits of nature-based solutions in relation to habitat and community, and particularly the use of vegetation to address the climate and biodiversity, as well as having positive effects on physical and mental health.  These were entered in the 4th National Biennale of the Faculty of Architecture, Urbanism and Design. (August 2019)
Interdisciplinary Seminar for Social Emergencies
Breathe/Respirar projects have been integrated into FADU's Interdisciplinary Seminar for Social Emergencies (SIUS), an award-winning semesterly elective seminar that allows design students to work directly with underserved communities. (April-June 2019)