Plastics: Redefining Single-Use
Several group members are key to a diverse project team from all faculties here at The University of Sheffield, working with The Grantham Centre for Sustainable Futures staff to redefine single-use plastic, in the fields of food, healthcare and agriculture.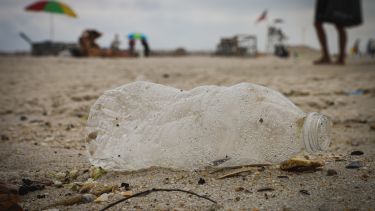 Single-use plastic is a waste of limited natural resources. We need to tackle the plastic problem from all angles, because it is so complex.
The project is trying to shift the agenda from the recycling of single-use plastics to processes of re-use. In particular, Rorie Parsons has been exploring the demise of historical systems of reuse as a result of changing social, technical and economic structures, whilst also conducting field research (in store and in people's homes) in understanding how consumption practices of reuse systems (specifically refill methods of reuse) are performed and engage with other associated everyday practices. This work contributes to creating a strong basis on which to synthesise evidence and formulate policy advice with regards to how a new vision – a zero-waste, circular economy for plastics can be achieved.
Peter Fuzesi's work focuses on the adoption of plastic products in healthcare, and the current system of use and disposal. While single-use plastic products are essential for infection prevention and control, their use contributes to new environmental and health risks. A key aspect of this work is articulating and valuing individual and environmental risks that can inform the transition for a more sustainable healthcare system. 
We are currently seeking new funding to take this work forward.
Duration: 2019-2020
Researchers involved in this project include: Peter Jackson, Rorie Parsons, Matt Watson, Peter Fuzesi
Funded by The Engineering and Physical Sciences Research Council
Study with us
Join an international community of geographers and help tackle the biggest issues in our changing world.