As a science teacher, it's important to keep on top of emerging research

Matthew Keedy
Recent graduate
BSc Environmental Science
Matthew explains how his degree launched his career in teaching.
Why did you decide to study Environmental Science, and why did you choose Sheffield?
I choose this course at Sheffield because it offered a great combination of geography and biology: the two subjects I enjoyed the most at A-Level. I really liked the idea of being based in a department with a good feeling to it: the department open days were great for this. When I was looking for universities to study at, Sheffield stood out because of its accessibility - I came to visit on the train with my dad and got the bus back which showed it was easy enough to get back to the North East as and when! 
What has your career path been since graduation?
In my final year I started having a look for what I wanted to do after graduating. I applied for a few grad schemes and contemplated doing a Master in Science Communication, however I was accepted on the Teach First graduate scheme to train as a teacher. I'm now teaching science in Hull and have completed a voluntary placement with a charity called Jamie's Farm that works to help vulnerable children that are at risk of exclusion. I plan to stay in education, in some capacity, for the next part of my career. 
How did studying Environmental Science help you get to where you are now?
I found studying Environmental Science exceptionally useful in terms of exposure to challenging ideas in scientific and geographic literature. As a science teacher, it's important to keep on top of emerging research to provide real world examples in lessons and to try to help your pupils see that science and research is constantly changing. I found it brilliant to be a part of that at university and to now share that with new scientists is a great opportunity.
What made your time in Sheffield special?
In Sheffield, I loved being so close to the Peak District. From my house in second and third year I was able to run to the start of the Rivelin Valley trail: I loved having such a nice run to do after a day in Weston Bank library.
When I studied at Sheffield, I was part of Sheffield University Conservation Society, where I held the role of Outreach Officer. In this society, we organised events based around Sheffield and the Peak District to protect the environment and worked with other local organisations to promote conservation values
What advice would you give to new students in the department?
I would recommend to new students that they become involved with the department's student ambassador scheme. I really enjoyed all three years of my undergraduate degree and in my second year I became involved with the student ambassadors, which involved facilitating departmental open days, running educational days for local sixth forms and delivering summer projects to give potential undergraduates the chance to experience what studying in the department is like. Outside of the department I'd recommend making the most of the Peak District. Living in Hull now, the Yorkshire Wolds don't compare!
Study with us
Join an international community of geographers and help tackle the biggest issues in our changing world.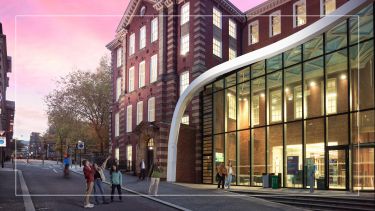 Visit us
Discover what sets Sheffield apart at our undergraduate open days on the Saturday 21 October or Saturday 18 November.