Ben Lewis 'transforms' Oswald Spengler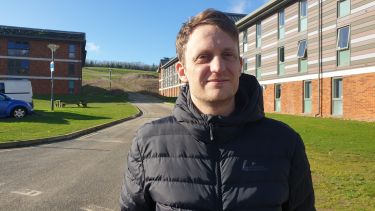 Dr Ben Lewis recently defended his thesis on the nationalist historian and philosopher Oswald Spengler and his supervisor and external examiner praised his work as 'transformative'. Prof. Henk de Berg commented: "Lewis completely transforms the existing picture of Spengler by showing how well-connected this "otherworldly philosopher" was and how, at every stage of his career, he reacted to very real-life events, such as the German revolutions of 1918/19."   Ben Lewis will publish his book on Oswald Spengler in the coming year.
Ben Lewis graduated in 2007 with a Sheffield BA in Germanic Studies. He then worked for several years in left-wing political journalism and as an academic translator. Following this, he returned to Sheffield, completed an MA in Germanic Studies on the thought of the 'Pope' of Marxism, Karl Kautsky, before embarking on his doctoral degree.
I came to Sheffield because of the wide range of options available to me as an undergraduate and the expertise of the lecturers. Germanic Studies has always been a warm and welcoming place and my supervisors provided meticulous support throughout my studies

Dr Ben Lewis

Associate Lecturer for German at the Open University.
Are you interested in postgraduate study within Germanic Studies or the School of Languages and Cultures? Please check our postgraduate pages and drop us an email. We are keen to hear from you.
Explore all postgraduate courses
A masters from Sheffield means in-depth knowledge, advanced skills and the confidence to achieve your ambitions.