Business, power and sustainability in a world of global value chains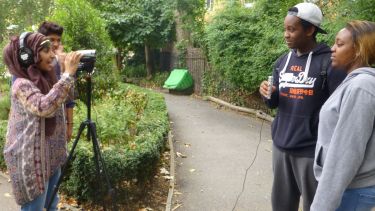 ---
Description
We welcomed Professor Stefano Ponte and Professor Lisa Ann Richey for a seminar, co-hosted with SPERI (Sheffield Political Economy Research Institute). The Q&A was hosted by Institute for Global Sustainable Development Co-Director, Professor Dan Brockington. 
Managing sustainability concerns is big business. Yet, climate change, rampant deforestation and loss of biodiversity suggest that corporations are not doing nearly enough to address global sustainability challenges.  In the name of sustainability, a massive transfer of resources is taking place along global value chains – from the global South to the global North, from producers to global buyers and consumers, and from labour to capital. Global buyers are finding new ways to extract environmental value from their suppliers, making more money for themselves while leaving little impact on sustainability. The accumulation of 'green capital' goes hand in hand with a failure to tackle 'brown environments'. Current regulatory instruments are falling short and multi-stakeholder initiatives, social movements and activism still have a long way to go. Drawing from twenty years of research from the ground up, Stefano will suggest new ways of addressing these challenges.
Stefano Ponte is Professor of International Political Economy in the Department of Management, Society and Communication, Copenhagen Business School, where he is also the director of the Centre for Business and Development Studies. He is primarily interested in transnational economic and environmental governance, with focus on overlaps and tensions between private governance and public regulation. His research, fieldwork, teaching and policy work is informed by international political economy approaches, global value chain analysis and convention theory. Stefano analyses governance dynamics and economic and environmental upgrading trajectories in global value chains — especially in Africa.

Professor Lisa Ann Richey – Commodifying Compassion: Pushing the Boundaries of Ethical Consumption
Have you purchased a luxury sweater to break the cycle of poverty, bought a soft toy from IKEA for families affected by disaster, or perhaps drank a 'cup of hope' with Starbucks coffee from Eastern Congo? Today's marketplace is inundated with products supporting humanitarian causes that promise to give aid to distant beneficiaries, provide 'good feelings' to consumers and promote the brands of corporations and humanitarian NGOs. These 'Brand Aid' initiatives provide a neoliberal solution to humanitarian crises and sustainable development challenges by linking privatized politics of consumption to global change. My short intervention will present an exceptional new case that pushes the boundaries of compassionate consumption to their extreme. 

Lisa Ann Richey is Professor of Globalization in the Department of Management, Society and Communication at the Copenhagen Business School in Denmark. She joined CBS after 15 years at Roskilde University where she was Director of the Doctoral School of Social Sciences and Business and Professor of International Development Studies. Currently, she leads the research projects Commodifying Compassion: Implications of Turning People and Humanitarian Causes into Marketable Things (2016-2020), funded by the Danish Council for Independent Research (FSE) and Everyday Humanitarianism in Tanzania (2019-2024), funded by the Danish Development Research Council (FFU).